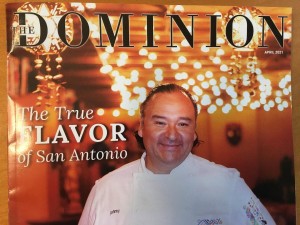 We talk with some regularity in these pages about the Culinary Institute of America (CIA), and rightly so, what with it being one of San Antonio's marquis educational destinations. Indeed, the CIA is widely regarded as the best preparatory school in the world for those aspiring to careers in the culinary arts. And while the school's graduates routinely end up working at (and frequently starting) the world's finest eateries, it's always gratifying when one of the Alamo City's native sons returns to share his culinary gifts with his home town. Such is the case with CIA-trained Chef Johnny Hernandez, lifelong San Antonian and far and away the most successful and best-known culinarian in the city.
Chef Hernandez currently owns nine restaurants in San Antonio, with an additional two under construction and two in development. These include favorites like La Gloria (four locations with a fifth on the way), Burgerteca, Villa Rica, and others. Oh, and he also has a fleet of margarita trucks (how did that take so long to become a thing in San Antonio?!), a catering company (True Flavors), a food supply company (Tortilleria La Gloria), and an event space (Casa Hernan) for conferences, festivals, etc. And, because he's not busy enough operating all of these properties, Chef Johnny is also deeply involved with the San Antonio nonprofit community, but more on that in a bit.
So, yeah, he has a lot going on. But never make the mistake of believing that all of this came easy, because even though it can be argued that his entire life has been steering him toward this sort of career, getting here has, nevertheless, been the product of a tremendous work ethic, mixed with a little dash of good luck.
We chatted outside on the patio at Burgerteca, and it seemed that every person who walked or biked by while we were speaking knew him and offered a wave or a greeting. That's no accident, as will become more apparent here shortly.
"I was raised in the restaurant business," Johnny recalls. "My parents were restaurant owners. My father owned a place called Johnny's, the very first cafeteria-style restaurant in San Antonio. That's basically where I grew up. Every day was a trip to the restaurant before school. I would hang out, cook breakfast for myself, then make my lunch and take it to school. I started working there when I was just four or five years old. I wasn't even going to school yet, but that was my introduction to food service. I just loved the kitchen, loved getting my hands into the masa to make tortillas. It was a great day when I was finally tall enough to cut things on the chopping block. I'd peel dad's potatoes for breakfast tacos, tomatoes for salsa, anything that needed doing. That was every day for me before school."
Johnny's father recognized his son's cooking skills from an early age and strongly encouraged him to pursue a culinary career.
"My dad never got more than a second-grade education. He spent much of his life as a migrant worker before starting the restaurant," Johnny says. "The first things I learned to read were order tickets and food inventory sheets. That was my early education. My dad always wanted me to go to chef school. The only question was which one."
Johnny was not into your typical after-school activities like sports and clubs. Most of his adolescent life was centered around food and the family restaurant. In his sophomore year of high school, his father became ill and had to close down the restaurant. That led to Johnny's first non-family job, cooking at Kareem's Lebanese restaurant in San Antonio.
"I worked there for about a year. Later, I enrolled in a work-study program at school and the teacher asked me what I wanted to do. When I told her I wanted to be a chef, she responded, 'Well then, let's get you a hotel job.' My first position was during senior year, working at the Marriott on the Riverwalk."
And that's where Johnny met someone who would change his life. She was an intern from the Culinary Institute of America's Hyde Park campus (the only campus at the time. They've since added San Antonio at the Pearl and Greystone in Napa, CA). She filled in the young Johnny on all of the culinary options available, but told him in no uncertain terms that if he wanted the best education, CIA was the place to be.
"She definitely set me on the right path," he says. "I applied right away and got in based on all of the restaurant experience I had amassed by that time. I applied early senior year, stayed at home in San Antonio through the summer following graduation, and was at Hyde Park in New York in time to start the semester that fall."
That was the autumn of 1988, and Hernandez completed the two-year Associates program. Since then, and in addition to all of his other pursuits, he has remained active with the school, serving on the alumni board, the national board, and the inaugural entrepreneurial program board, not to mention delivering commencement remarks for graduating classes of the school here at the Pearl. Immediately after graduating from the Hyde Park program, the newly minted Chef Johnny made his way to Las Vegas, where he helped Steve Wynn open the new Mirage hotel and casino.
"I was there for about a year and a half and I learned a terrific amount about the catering business. Wynn always pushed for having the best of everything. We did large-scale events for folks like Michael Jackson and other Hollywood and Vegas personalities."
After learning all that he could at the Mirage, Chef Johnny got an opportunity to move to Santa Barbara, California and work as a sous chef at The Four Seasons. It was a definite reduction in energy level from the nonstop nightlife of Vegas, but it afforded the still-young chef an opportunity to ply his craft in a fine dining environment, learning important skills like working a line and focusing on plate presentation.
"My work at The Four Seasons was definitely very different from catering. But through all of it, I always knew I would eventually come back to San Antonio and start my own catering business. I grew up catering and that was always what I felt I was destined to do. With catering your goal is to create unforgettable experiences. But I admit there was a moment there when I thought I would move over to the Post Ranch Inn in Big Sur with Wendy Little. In the end, though, I knew my window for getting back to Texas was narrowing, so I stayed put for a while longer. In the end I was away from home for about five years, counting my time at school and in Vegas and Santa Barbara."
In that time, Johnny's father had passed away, which was a tough loss, one that affected not only his family back home, but also his plan to spend time in Europe traveling and learning the cuisines of France, Italy, and other countries.
"In the end, that dream kinda came crashing down," he says. "My original plan had been to come home for a bit, help out my mom, maybe take some computer classes that would help me in starting a business. Then there was a fire in my mom's kitchen. It was one thing after another—I guess life just got in the way."
Johnny would end up taking a part-time cooking gig at the Junior League's Bright Shawl restaurant. It was there that he found himself doing a bat mitzvah catering event for the owner of The Old San Francisco Steakhouse, Barry Brown. Brown was so impressed with the food at the event that he went into the kitchen and demanded to meet the chef.
"My vision in that moment had been to move to Palermo, Italy, but Mr. Brown handed me a business card and said 'Come see me in my office on Monday morning.'"
Following that auspicious meeting, Johnny was offered the job as head chef at Brown's family of steakhouses, and with the flagship property right here in San Antonio, he didn't even have to leave town.
"I had never been executive chef anyplace before, never been in charge of the entire operation. It was a great opportunity to learn leadership. I was responsible for everything, so I stayed—two years when all was said and done."
While working for Brown's steakhouse chain, Johnny helped develop the company, set up their catering business, and create their lunch program. They were still in the throes of designing a new restaurant when, two years on, Johnny decided that the time had finally come to do something for himself. That 'something' became True Flavors catering, a business that began twenty years ago and which still flourishes.
"I've got a brother in the business and a sister as well. It was a tremendous amount of work, especially in the early days. I would definitely say that catering is a young person's business—the pace, the physical demands, the schedule. I used to go two days at a time without sleeping. Believe me, I've lost my share of girlfriends to this business. Our first clients were big companies like Bartell Zachry. We did loads of events, weddings, rehearsals, quinceañeras, you name it. In catering you specialize by not specializing."
Hernandez continued working as head chef for True Flavors for over twelve years, stopping only when it came time to open his first restaurant, La Gloria.
"I had always dreamed about starting my own restaurant, and it was around that time that I started traveling to Mexico regularly. At one point, my mother asked me to come to where she was doing nonprofit work at a children's camp in Aguascalientes, just north of Michoacán. 'We need you to help us run the kitchen,' she said to me. So I went."
While there he traveled throughout the country in his van, learning about regional cuisines and wondering all the while why no one had thought to bring all of it back to the San Antonio market.
"Maybe people don't want authentic regional Mexican food?" I thought. "That sounds ridiculous. I was blown away by all the different foods down there. Fifteen years ago everything in San Antonio was TexMex. There were no taquerias. True Mexican food didn't come on the radar here until we opened the first La Gloria in May of 2010. We were the second restaurant to open in the Pearl."
Now, ten years on, there are four La Gloria locations. Besides the Pearl, there are restaurants at the airport, on the northwest side near The Dominion, and at the AT&T Center. Soon a fifth location will open at Brooks City Base. Once La Gloria was up and running, Hernandez began opening Burgerteca locations and other properties, exploring new concepts and introducing San Antonians to cuisines they'd never experienced before.
"It didn't always work out though. We opened a place called El Machito in Alamo Heights near The Quarry Market. It was a mesquite-wood-fired meat concept, but it never really caught on there. We'll be reopening a new location on the south side sometime soon."
Ever enthusiastic about trying out new concepts, Hernandez has begun developing and marketing a line of packaged foods under the La Gloria brand at select H-E-B stores. These include chips, taco kits, and other items.
And, of course, like all restaurateurs in the country, Hernandez's properties were not untouched by the past year of pandemic chaos.
"Covid was really tough for us, especially at the start. But now I feel like we're through it. We've adapted, learned new things, adjusted where we needed to. It's different for everyone though. If you're downtown, you're hurting because for a long time there was no one downtown. We're a company that's fifty percent convention and airport, but when it all started getting bad last year we shut everything down. We began feeding 10,000-12,000 seniors a week through Meals on Wheels and curbside service. We converted several of our restaurants to grocery stores. We did everything we could to help the community and keep as many of our employees as possible. We're pretty stable now. Hopefully there'll be no more surprises."
In the midst of all this, Chef Johnny has also managed to fit in time to tackle culinary consulting in Europe, doing development work in the UK and elsewhere. And he aspires to someday open a La Gloria in London.
Finally, because this all began with his father's support and his mother's work at the children's camp in Mexico, Hernandez does a great deal of nonprofit work here in his home town, most notably through an organization called Kitchen Campus, a group he started in 2014 to honor his parents. The organization was established to connect youth to culinary opportunities through education and advocacy. It's an after-school program that introduces children to food, nutrition, and cooking while exploring careers in the culinary arts through classes, demonstrations, field trips, and guest chef workshops. Funded by annual events like the Paella Challenge, the nonprofit is dedicated to helping children "follow their dreams, without limitations," to use the chef's own words.
Chef Hernandez has been recognized many times over for his culinary achievements, as well as his nonprofit work. Hispanic Business magazine recognized him as one of the Top 50 Influential Hispanics, and Siempre Mujer magazine named him one of the Top 5 Hispanic Chefs in America. In 2014, the San Antonio Convention and Visitors Bureau awarded Chef Hernandez the "Con Corazón" award for his work spotlighting San Antonio as a culinary leader and destination, work that culminated with the city's designation in 2017 as one of only two Cities of Creative Gastronomy in America. He has appeared as judge or participant on numerous cooking shows, e.g., Top Chef; Man, Fire, Food; and Beat Bobby Flay. And then there was the time he was invited to the White House to cook for President Obama and his family.
"It was simply an amazing experience. We were called to come and cook for a Cinco de Mayo event and they were terrific. We really took care of them! And we definitely hit it off with the staff, even got invited back."
So what comes next for a guy who's never let up since returning to his home town.
"I'll definitely continue to grow the H-E-B venture. Expanding with them will be really important for the next five years or so. We're also developing two new restaurant concepts, one a high-end Mexican dining experience, and another in La Villita, specific concept yet to be decided on, but perhaps a reimagination of Johnny's, the restaurant that his father started all those years ago when Chef Johnny got his start as a five-year-old, still too short to reach the cutting board.
Anything else we should know about this accomplished son of San Antonio—something that maybe has nothing at all to do with cooking?
"I collect koi and I'd love to take part in a koi contest sometime," he says, "The skill is picking them when they're really small and then carefully nurturing and growing them. You don't quite know what you're going to get while they're young though."
Which, as it happens, is an apt metaphor for the life that Chef Johnny Hernandez has led since those early days making masa and tacos in his father's restaurant. In a lifetime of accomplishment, he has changed his hometown's perspectives on Mexican food, helped it to get through a year-long health crisis, and, throughout it all, managed, as well, to contribute meaningfully to the culinary education and inspiration of a new generation of San Antonians. It's been a journey of culinary proportions, one that shows no signs of letting up anytime soon.