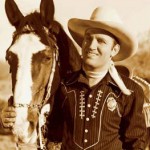 In a time
of cars and planes,
cell phones and internet,
how to explain to someone
under fifty the wonder
of the singing cowboy?
But sing they did,
Gene and Roy
sitting tall in the saddle
resplendent in suits of white,
strumming their guitars,
as they sauntered
off into the sunset.
My dad had all Gene's 78's,
with their pops and crackles,
the hiss of the needle
dragging heavy over old vinyl.
I found an old Victrola—
the kind you wind up—
to play his records on.
And though dad
rode off long ago
in his own blaze of glory,
his records live on,
Gene's voice ringing through
the hiss and static of years,
reminder of a time when
the good guy won every gunfight,
always got the girl,
and never missed a note.
2.27.21
Brian Kenneth Swain