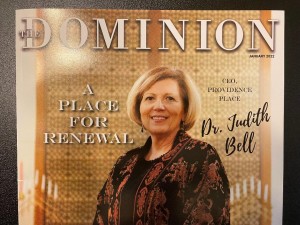 We've written about many nonprofits in these pages—everything from home renovators to military working dogs to golf tournaments for cancer research funding. But one thing we have most decidedly never done is present a charity that was started by a brothel owner. But, because we're all about breaking barriers, that is precisely where we are headed this month. Specifically, our story is about a San Antonio organization called Providence Place, led by Dr. Judith Bell; and yes, the organization was started way back in 1895 by none other than brothel owner Madame Mary Volino, a woman who, after several years of what one imagines was a successful commercial venture, happened to overhear the words of a street preacher and decided on the spot to modify her business model, partnering up with the Travis Park Methodist Church to start a charity for wayward girls with the motto "a home for every girl." And, despite having been started with the goal of rescuing young girls and women from San Antonio's red light district, the organization has, in its subsequent 126 years, undergone numerous transformations (including seven name changes), reinventing itself as needed to deliver on a mission that best suited the needs of the community at the time.
The first transformation happened in the early 1900s, when the organization became an adoption agency for women facing an unplanned pregnancy (The organization was such an early entrant into Texas adoptions that their license number is 4). The mission of creating bright futures led directly to the construction in the 1960s of the organization's current twenty-five-acre campus in northwest San Antonio. Providence Place continues to provide adoption services today, including programs that connect young women facing an unplanned pregnancy with families wanting to adopt. The majority of recent adoptions have been children placed in forever families through Child Protective Services. To date, Providence Place has placed over 6,000 babies and children in loving families.
Adoption trends began to shift in the mid-70s and the need for a "Maternity Home" decreased. These political and societal changes forced the organization's leadership to pivot and begin serving young deaf people, a shift that soon led to work with other disabilities. Throughout those years, Providence Place would typically have 50-60 young adults with disabilities undergoing some combination of life and work skills training.
This revised mission continued for another forty-four years, until evolving state regulatory standards forced yet another change in direction. In 2017, the nonprofit opted to tackle the large and growing problems of human trafficking and domestic violence, adopting the mission of "working to eliminate the cycle of generational trauma through innovative services." Judith, who became the organization's CEO in 2015, recalls that time as one of research, soul searching, and great change.
"In 2016 we began exploring where the greatest community need existed and we just went 'Wow!' And shortly thereafter we started researching grants and other funding opportunities that would allow us to address domestic violence and other related issues."
Providence Place provides these services through a transitional housing program called My Mariposa House, which provides residential support and rehabilitative services for up to twenty women at a time who have been victims of trafficking or domestic violence. The women typically stay for as long as eighteen months.
"These women," Judith says, "have typically experienced very complex traumas and are in need of not only safe housing but also various training services so that once they leave us they can take productive self-sustaining roles in the community. We can provide for not only the women but also a single child up to the age of three. It thrills me to say that we've just recently had our first group of program graduates."
Another program operated by Providence Place is known as Parenting with a Purpose. It's a community-based parental education service for families with children three and younger.
"This is financially our largest program, "Judith says, "with a budget of about a million and a half dollars a year. We partner with San Antonio's Avance head start program, the San Antonio Housing Authority (SAHA), and other community partners to organize parent strengthening classes and deliver material assistance for items like diapers, formula, baby wipes, etc."
Providence Place's third community program is known as Supervised Independent Living (SIL) and it is designed to provide transitional housing assistance to young women in extended foster care. The program is designed to help young adults referred to us through DFPS, so that they can be better prepared to age out of care through supportive services.
"We have apartments on our campus for these women," Judith says, "and they can stay here until age twenty-two, though they have to be employed or in school during that time."
The last program offered by the organization is called Oasis House, and it is a ninety-day emergency shelter program also targeting kids aging out of foster care who would otherwise be homeless. Judith describes the one unfortunate legal downside associated with the Oasis program.
"Prospective clients have to be officially homeless for one full day before they can be referred to us by South Alamo Regional Alliance for the Homeless (SARAH). But once they come to our attention, they can stay here for up to ninety days or take advantage of HUD-funded rapid re-housing throughout the city."
Providence Place can house up to forty people on their campus, spanning all four of its major programs. They've served over 4,000 people through their education classes, which take place everywhere from Bexar County jails to local housing authorities to public parks. They also work with many partners throughout the community, but with a goal of supplementing services and filling gaps rather than duplicating services offered by others.
Because it's come up in some form in every interview I've done over the past two years, I had to ask about the impact of Covid on their services and their day-to-day operations.
"We didn't have the option of shutting down during Covid," Judith says. "We didn't feel like we could neglect our families in parenting education, and so we continued providing services throughout and are still doing so. Several of our team members worked from home for a couple of months, but we simply had to keep everything going. We did, though, modify some of our processes a bit, including staggering our enrollment into the various residential programs. As it happened, we opened the Supervised Independent Living program in March 2020, just as Covid was getting started, so that was difficult. Like everyone, we're still living with the pandemic today. We wear masks all the time, and take whatever other steps we can to help ensure that everyone here is safe—resident, employee, or visitor. As a result we haven't had a single Covid case that originated here."
And so, how does someone like Judith Bell come to join an organization that's had such a history of change and that today has such a broad reach in the San Antonio community?
"I was raised in West Memphis, Arkansas," she says. "My father was in law enforcement and he never hid us from anything about society, the good or the bad."
Having pretty much always assumed she was headed for law school, she discovered once she got to college at the University of Arkansas that she didn't much like Political Science. So, in the end she would leave Arkansas with BS and MS degrees in Child Development and Family Services. From there Judith went on to earn her Ph.D. in Human Development from Iowa State, a program highly regarded for their Family and Consumer Sciences programs. She picks up the story from here.
"My goal upon finishing my doctorate was to return to Arkansas or Louisiana (where my parents had recently relocated). I got a teaching position at Northeast Louisiana University, but discovered after a couple of years that I didn't much care for the position there. After that I took a position with social services in Monroe, Louisiana, a role that gave me a lot of experience with domestic violence victims. A few years later, I joined Volunteers of America in northeast Louisiana, but unfortunately, after ten years of service, my position there was eliminated and I once again found myself looking for a position where I could pursue my passion."
Then came a fateful day in 2011 when Judith happened to run across an ad for a nonprofit executive position in Texas.
"I uploaded my resume and a few days later I was interviewing in San Antonio," she says. "A couple of weeks after that, I packed my things and moved to what for me was the big city."
She served as Chief Operations Officer (COO) for four years before being named CEO in 2015, the role she has held ever since.
"It's a real love story," she says. "I love San Antonio. I love Providence Place, and I love the mission of our organization. We're doing important work and our outcomes tell us that we're having an impact on people's lives. What better job could there be than improving people lives?"
What's a typical day like with an organization whose mission touches so many people in so many different ways?
"For starters, it's a lot of strategic conversation. We believe in collaborative leadership, so we operate with three key executive roles: CEO, COO, and Chief Program Officer (CPO). We meet each day for everything from reviewing and approving an annual budget to having strategic conversations about how to move the organization forward. We also do a lot of donor calls. We're always looking for other funding options that allow us to stay within our mission. We lean heavily toward institutional donors, but we also have about 300 individual donors and direct mail is our bread and butter method of reaching these folks. We are trying something new this year—a Christmas Wish Book Gala. We've created a catalog of items that our clients need year-round, but we're asking people to contribute now to help pay for those items.
"As CEO my greatest challenge is keeping us from going down the path of mission creep so that we're not chasing funding sources ineffectively. Our main objective is to keep true to the mission at all times. But, of course, we'll always be willing to do whatever is required to meet the needs of the community. In 2013 we went through a name change, deciding to move away from the Methodist Mission Home label. At that time the name was potentially confusing—some people thought you had to be Methodist to come here. Also, there was confusion with Methodist Children's Home in Waco. But our broader thought was that having a name not associated so directly with the Methodist church would allow us to generate a broader pool of donors and church contributions."
What's on the horizon for Providence Place as we (hopefully) near the end of Covid and begin to branch out a bit more into our community?
"I see nothing but growth opportunities for us going forward. I know that we can do more in foster care and the prevention of child abuse. Most of the attention in San Antonio is on placing children in foster care, not on the prevention of abuse and neglect. But there are plenty of possibilities for growth in that area. There simply are not enough agencies in town to keep up with the number of young people aging out of foster care. We can expand our Supervised Independent Living program, as well as our community-based services for survivors of complex trauma. They need to get away from the toxic people in their lives who know where they are. Our program is a rest, pause, and restore opportunity. This is often the first stable home our residents have had, across the board. We want them to develop a sense of safety and security and learn to live without chaos. The end of that chaos is restoration. Lots of women have left our program but come back later for therapy of one sort or another. Our goal is for them to leave here, be employed, and have a stable healthy home. They have successfully broken the cycle of generational trauma, so that their children will not have to experience the suffering that they experienced."
What sort of final message would Judith like to share with readers and with the broader San Antonio community?
"I want people to know about our organization, our team, and the work that we do. We've been an integral part of the San Antonio community for 126 years. Back in the sixties when this campus was built, it made perfect sense because this was where parents sent their pregnant daughters. It was out in a wooded area that few people even knew about, and being secretive was an okay thing back then. Now that is not the case. I know there are people in the community who are passionate about the work we do and about finding ways they can get involved, whether that's helping kids in foster care, domestic violence survivors, or youth aging out of foster care. We offer a very comprehensive program that changes people's lives for the better. And that's just as true for our team members and volunteers as it is for the people we serve. At the end of the day, our goal is to help people write a new chapter in their lives."
If you would like more information please email Providence Place at info@provplace.org or call 210-696-2410.