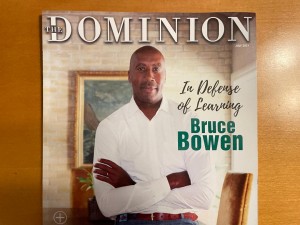 An important question every professional athlete must wrestle with at some point in their career is 'what comes next?' once their time in the big leagues is over. This is true whether your sports career lasts only a short time (4.5 years is the average for the NBA, 2.5 for the NFL), or whether you're fortunate enough to play on for a decade or more. Some aspire to coaching, others to broadcasting. But with supporting sports opportunities far less numerous than actual playing roles, the majority of former pro athletes eventually find themselves doing something that has little or nothing to do with their athletic experience. And so naturally this was one of the first things I asked about when I sat down to speak with former San Antonio Spurs defensive great Bruce Bowen. The question was, to a degree at least, answered in Bruce's case when I first saw the news release earlier this spring announcing his appointment as the new boy's head basketball coach at Texas Military Institute (TMI). However, as is so often the case with personal journeys, the devil is in the details, and there's a whole lot more to Bruce's story than simply landing a new job.
Born in Merced, California, Bruce spent his childhood in Fresno, a childhood which, without getting into too many details, was more challenging than many, so much so that Bruce realized from an early age that the way he was going to get ahead in life was through education, and the way he was going to obtain that education—since his family was not in a position to pay for it—was going to be by leveraging his athletic abilities, which were abundantly apparent during his time playing basketball for the Edison High School Tigers. Reflecting back on his youth, Bruce has now harnessed his experiences and committed himself to work with young athletes in a way that helps them understand the impact that sports discipline can have on their own later lives.
"That upbringing was simply my reality," he says. "I know kids who were more desperate, worse off, than I was. But we are all handed struggles of one sort or another in life and it's up to us to deal with them. On the flip side, those realities created the person I am today. People often wonder how so many great athletes come from impoverished backgrounds, but Jesus wasn't born in a mansion with butlers. It's the struggle that we are obliged to go through, and it's that same struggle that makes us stronger in the end."
Edison was, first and foremost, an excellent high school academically. But, still, teenagers are teenagers, and so most of the focus—Bruce being no exception—was on athletics. But the lesson about the importance of education was imparted nonetheless, as even the future NBA'er and three-time champion was by no means guaranteed time on the court.
"The only reason I got to play as a junior on the varsity team was because five of our starters were declared academically ineligible. Turned out if you wanted to be on the court, you had to do the work off the court, one of the many life lessons I work hard to instill in my players today."
Over the years, Bruce has amassed many such lessons, from teachers, from coaches, from family members, and even from the kids he's coached. Sometimes, though, the most enduring lessons come from when we mess up and someone holds us accountable for it. Like the time he missed the bus for a game against Colorado State during his collegiate time at Cal State Fullerton.
"My freshman year in college, the night before a big game against Colorado, I had my bags all packed. But I turned the room heater up too high and ended up oversleeping the next morning. The coach called asking where I was and I grabbed my bag and ran down there. But he told the bus driver to leave without me and I ended up missing the game. Later, I called my brother Quinn, crying and upset that I'd been left behind. All he said to me was 'That's on you . . . it's your fault for being late. You need to get to the point where you're not making excuses. If you think it's tough for you, what about all those other kids out there, the ones who have bedbugs, neighbors playing video games all night, stuff like that?' He wouldn't allow me to get away with throwing out excuses. It definitely wasn't the response I wanted to hear, but it sure was what I needed to hear."
The moral of that anecdote for Bruce wasn't so much about being on time—though that's certainly an important thing to know in life—but rather about the importance of owning it when you make a mistake and not trying to make it someone else's problem. (Historical note: Bruce was only ever late one other time in his entire basketball career, and that was when he was playing for the Celtics. "I was closing on a house in Boston," he says, "and I grossly underestimated how long it would take to sign all the paperwork. But in the end Coach Pitino just hit me a fine and then let me play in the game.")
Nearing the end of his collegiate career at Cal State, Bruce, in the end, opted to leave school nine units short of his degree. Having gone undrafted by the NBA, he left college in order to pursue professional playing opportunities in France, an alternative path he was counting on to eventually land him an NBA opportunity. But by this point in his life, he had not only learned lessons about the importance of education, but also about finishing what you start, and the unfinished degree never stopped weighing on his mind. And so, years later, Bruce would complete that communications degree, studying in the team hotel during road games, and taking a final exam in the midst of the 2003 playoffs between the Spurs and the L.A. Lakers, reasoning all the while that if he was going to lecture kids in the future about going to college, he'd better finish doing it himself.
Another important lesson had to do with the inherent value of working hard to achieve your goals and dreams, and keeping at least one eye on the long game rather than insisting on everything coming your way right now. It's all about work, and discipline, and commitment.
"I will not talk with the kids about the NBA," he says. "What I will talk about is how hard it was to get there. It's not about you doing it your way. You have to help your teammates at every opportunity. My experience should help them to understand that. I was never a phenom like Kobe or LeBron. I had to work constantly to get noticed, to get time on the floor. Now I feel like I have a voice, someone who's been there who can offer young kids a better blueprint because of my experiences. And, in the end, not getting drafted worked out well for me. I have drive and desire. There's real value in getting kids into the gym at 6 a.m. to practice. You're working your butt off while everyone else is sleeping. As we get into games and playoffs, it's important to keep that perspective on things. Meantime, leading up to that, I've got kids running up and down the court, throwing up in trashcans, and the sun is barely up! But later, when those kids go to college and end up working in corporate America, they can utilize all those old experiences, teammates, and life lessons. That's what I want from my time here at TMI.
"Yet another important lesson I want these guys to take away from their time here is the importance of being satisfied with yourself and what you've gotten out of life. For instance, I learned early on in my professional career to not worry about how my paycheck compared with anybody else's. Dwelling on that is a recipe for constantly being unhappy. As long as you're happy with yourself, that's what it's all about. And related to that, of course, is the importance of not being afraid to fail at things. That's one of the most important lessons in life, one that contributes directly to being contented with yourself. It allows you to process and learn from failures, and ultimately become a better person. You don't want to live the rest of your life wondering what-if."
That goes, as well, for the sorts of opportunities that come your way. Bruce certainly didn't come out of high school thinking 'My goal is to become one of the best defenders in NBA history.' It simply turned out that that was where his particular opportunity manifested itself, one that he seized enthusiastically and made the most of.
"A big part of my embrace of defense was simply to get on the floor. There are plenty of guys who are talented offensively. You have to be able to score at any level to play. For me defense was my opportunity to get into the game. But, of course, part of it is your skill set as well. You have to be realistic with yourself, continue to work at it. I had struggles creating shots at this level and so I had to learn to adapt. And then in the off-season I made myself a better three-point shooter, better ball handler. I didn't come back telling Pop to get the ball to me. My job was on the defensive side. Now that I'm in the role of coach and mentor, it's my responsibility to put kids in positions where they can succeed. If you're going to win games, you have to have a game plan that benefits from what all the players can do. Whether you're playing at sports, or doing a corporate job, you've got to play to your strengths."
Newly married to wife Sarah (5 months), Bruce has two sons, Max (9) and Bruno (8), as well as sons Ojani (15) and Ozmel (14) from a previous marriage. He has embraced the lessons from his experiences with the family every bit as much as those from his playing days.
"Teaching my sons the value of hard work, the value of communication, is not so different at home from what I'm doing in my new professional position," he observes. "I have so many lessons from childhood that help me to be present as a father. I'm a man who went through a divorce, so now I don't just look out for myself, like someone broke the promise. I have even more responsibility to be there for my boys. It's all about learning from every situation we encounter. All those things we want to get them to do aren't for right now, they're for building them up later in life, utilizing the situation we have here. Being that I am a father, I hear the music, I see what the kids are doing. It's important for me to pay attention to that so I can utilize lessons from my own childhood and career. How do I get that young man's light bulb to come on? That's what's exciting to me. The reality is that who's better to convey that message than me? I think it's absolutely important for kids to have a passion, but I also want them to get that scholarship and that education. That sense of accomplishment is fulfillment beyond anything someone can give them."
Back on the education theme (we come back around to that a lot), Bruce talks about a sign that hangs in the TMI locker room. It talks about three things: 1) What are your goals? (2) What is your attitude? (3) And only when you have the goals, the education, and the right attitude, will you accomplish the things you want to accomplish.
"The biggest thing for me here at TMI," he says, "is the opportunity to be at an outstanding institute of learning that is recognized for all its educational achievements. I've come across more people here who have accomplished great things. There are a lot of faculty members and alumni here who've impacted San Antonio in important ways before I ever got here. It's gratifying to be a part of this institution and to have the opportunity to give something back to it. In the end, the basketball side of things is a vehicle for giving these boys the foundational skills they will need to prepare for life out in the real world. These experiences will allow them to function more effectively in a university setting and then later in whatever profession they choose. Too many times young athletes are focused on the money and not on what life can teach them. All those guys who left college early or skipped college and then didn't make it in the pros, they missed out on so much in life that you can't get back. Teaching the kids here discipline and accountability will help to make sure that doesn't happen to them."
Preparing yourself for whatever happens next is another compelling theme that Bruce comes back to time and again. His great grandmother seems to have had the philosophy down on that particular issue.
"'There are certain states in life,' she would say to me, 'when we receive things only when we're ready to receive them.' I can reflect now and see that this is where I missed out in certain areas. What's the next step for me after not getting drafted? What's my trajectory going to be and how am I going to make it happen? This was my great grandmother's thing: you don't know what the next thing is until it happens. The ant is a creature that's always moving, never taking it easy. That's how I've tried to apply all these lessons to my own life. If I'm handed lemons, what can I do with them? I decided to go get some sugar and water and make some lemonade."
It's interesting in retrospect how little we actually talked about the game, what with Bruce having three NBA championship rings and all, but I did manage to sneak in a couple of basketball questions, one of which had to do with the nature of how the defensive role has changed in the NBA since his time. No big surprise, though, that his answer brought things right back around to the lessons life offers.
"You just have to adjust and become better. If you do nothing but complain about the changes, life is going to pass you by. You have to operate within the rules, exert a little more energy. These days, training camp is only two weeks when it was a month in my time. You don't get better during the season; you get better during the off-season and during practice. Now you definitely have to be more creative. I spent a lot of time watching Michael Jordan when I was growing up, but obviously everybody can't run and jump like him. You work with the tools you've been given. I was able to look at Michael Cooper, Reggie Miller, guys like that. I was skinny like them, so I was watching them closely to see what kind of impact I could have."
When I first sat down with Bruce, I led off the conversation by mentioning that during my pre-interview research I'd come across a quote from Spurs beat writer Johnny Ludden who had observed (back in 2007) that whereas 'the NBA requires every player to make twelve community appearances each season, with a week still remaining in the season, Bowen has made forty-four.'
"When I first got to San Antonio," he responds, "the community received me really well. Of course, people are looking for different things from sports figures, but anytime you get out in the community, that resonates with people. There have been more teens that have come up to me and said 'you came to my school once when I was in third grade and I just wanted to say thank you.' How can we get our kids to want to give back if we don't set the example now? Throughout my time with the Spurs, it was about Pop's leadership and constantly looking for ways to get the Spurs engrained in the community. If you don't have the backing of the community, you don't have anything."
So, back to where we started it all: Where do you go once your pro days are behind you? For Bruce, that question has never really been in doubt.
"In the end, this all boils down to I just enjoy coaching kids and being able to impact their lives. I don't look past that. When I first got here, I sat down with the team and asked, 'How many of you guys love the game of basketball?' Of course, all the hands went up. To me love is patience; love is enduring. The school needs to understand that there's a process to what we're doing here. You don't just plant a seed and have a tree in a month. There are things you need to do to make sure you can cultivate the ground. My goal is developing kids to be the best they can be and to get the most they possibly can out of each opportunity.
"Through all of this, I have to acknowledge my wife Sarah, She has allowed me to realize that even though you may have failed at one particular challenge in life, you keep on living and there are plenty of opportunities to make the necessary adjustments along the way. She's been a fantastic influence for me. I've had issues with trust and fully committing in the past, but I enjoy being vulnerable to her. That's what she's given me. I know that despite whatever else is happening in the world, I don't have to worry about what she might think of me. The thing that makes me appreciate her most is how she goes about making sure that there's always something she can do to contribute to overcoming obstacles with me. That's a beautiful thing to have in life."