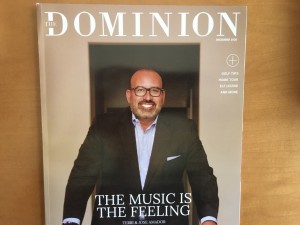 There is no disputing that 2020 has been a challenging year for all of us. Start with the virus, with its masks and social distancing and closures of, well, basically everything. Add in murder hornets; dust storms from the Sahara; wildfires in Australia, California, and loads of other places; more hurricanes than there are letters in the alphabet; and, of course, politics, and we'd all pretty much like to just skip ahead now to 2021. But there are several groups of individuals and businesses that have been hit particularly hard by the Covid-related events of this year, and these include restaurants, entertainment venues, and the musicians and performers who depend on these events and venues for their living. Into this latter category falls Jose Amador, Latin jazz bandleader and—until March of this year—regular performer with his band NATIAO Latin Jazz at Jazz, TX and other area clubs. Jose and I spoke at his home here in The Dominion earlier this month, and the impacts of Covid were top of mind for the Puerto Rico born performer and US Army veteran.
Jose and his wife of thirty-six years Terri have lived here in The Dominion for the past year or so, but his journey from Quebradillas, Puerto Rico to San Antonio has been a long and circuitous one, thanks in large part to his twenty-year Army career. He is the oldest of seven children, all of whom lived with their father (a hospital administrator) and mother (electric company administrator) in the same house until he left home at age seventeen. Both sets of grandparents lived nearby as well, one set across the street, the other about a quarter mile away.
"We were a solid family," Jose recalls. "A very close family. But growing up I was a little lacking in direction when it came to academic pursuits. Our parents—first generation college grads themselves—wanted to be sure we graduated high school and went on to college, but they weren't too specific about much beyond that. I ran track, surfed, and scuba dived a lot, since we lived really close to the beach. I also played lots of basketball and I was pretty good at it."
'Pretty good' isn't the half of it though. Jose was, in fact, excellent at basketball. So excellent that he played in semi-pro leagues throughout high school and for Puerto Rico's Junior Olympic team, traveling to Argentina, Venezuela, and other destinations to compete. He was also musically inclined from a young age. Influenced by his parents as well as an uncle—famous San Juan and New York bandleader Rafael Muñoz—Jose picked up the tenor saxophone at age eight and played until he left home for college.
"I set out at seventeen to attend Loyola University in New Orleans. Unfortunately they did not have a basketball team at that time. Probably just as well, as it afforded me more time to focus on my studies. I also gave up music once I left home. As things would turn out, I wouldn't pick it up again until almost thirty years later."
Studying had always come easy for Jose, but even in college he was uncertain what direction he wanted to pursue.
"I thought about law school because I'd always loved history, social studies, and civics. But I had ruled out medical school because I knew I didn't have the passion for it that the field requires. In my experience, you have to truly love what you're doing in order to be successful at it."
In the end, Jose opted for military service, leaving Loyola after two years and joining the US Army. Thus began a twenty-year adventure that would take him all around the world as an Army intelligence noncommissioned officer for eight years and, later, after finishing his bachelors degree at State University of New York, a warrant officer for twelve more. Details of Jose's Army days are sparse, because—you know—intel. But suffice to say that he spent at least as much of his military time out of uniform as in, and he got to spend time at some prime Army installations, e.g., Ft. Rucker, AL; Ft. Huachuca, AZ; Ft. Devens, MA; Manheim, Germany; Ft. Lewis, WA, and Ft. Bragg, NC. He even managed to swing a stint back home in San Juan, at Ft. Buchanan, Puerto Rico (that last one will turn out to be particularly important in a bit, but for a non-Army reason). Being a native Spanish speaker, he also spent a good deal of time in Central and South America. And while we can't divulge exactly what he might have been doing down there, if you think back to the stuff that was happening in that part of the world in the mid-to-late eighties, there's a decent chance he was there. Perhaps his favorite duty was at West Point in New York, where Jose not only got the opportunity to complete his college education, but also spent time instructing cadets in tactics, support, and battlefield intelligence preparation.
I mentioned earlier that Jose's time stationed in San Juan would turn out to be important. That's because this is where he first met his future wife Terri.
"I had a cousin who was teaching in Puerto Rico at the time I was stationed there. She and Terri were buddies, and one day Terri showed up at my office, having been given a ride there by my cousin. That's when we first met. Naturally I asked my cousin about her and she said that Terri was single. Well, I thought, I'm single too. My cousin encouraged me to ask her out, but Terri was reluctant at first. She wasn't crazy about the Army thing and the possibility of long deployments, travel, and separation. But in the end I was successful in convincing her to go out with me. Six months later we were married, and a few months after that we relocated together to my West Point assignment. We'll be thirty-six years married on election day."
That was 1984, and Jose had only been in the Army for about four years. But he says that once he had secured the West Point assignment, he knew he would make a career of the military. Many years later, at around the fifteen-year mark in his service and beginning to see the light at the end of the twenty-year career tunnel, Jose began considering where he wanted to live as a civilian. After passing up an offer to finish his service in Miami, the subject of San Antonio came up in a conversation with Jose and his career officer.
"I had driven through San Antonio several times, on the way from one assignment to another, and it seemed like a great place. In the end, I accepted the opportunity and became Detachment Commander for the Defense Intelligence Agency, working in a nondescript office building downtown with a bunch of Army, Navy, and Air Force guys—a very multi-service arrangement."
With nineteen years on his career clock, Jose put in his retirement paperwork and decided that with two kids (Valerie – 16 and Natalie – 13 at the time) who were not at all keen to relocate again, the family would set up shop here in the Alamo City. By this point he had completed his masters degree in healthcare administration and accepted a position as a sales rep with Pfizer Pharmaceuticals, focusing his efforts on DoD accounts. After eight years there, he moved to Fresenius Medical Care, a large dialysis provider, following which he was recruited to join Humana to manage the acquisition of primary care clinics in the San Antonio marketplace.
"I did that until January of this year, at which point I took a position with Devoted Health Plans as their Bexar County market director. Why so much focus on healthcare in my post-Army career? I guess part of it was the influence of my father, who did very similar work. I pretty much grew up in the hospital business."
And so at long last, we come to the musical part of our story. Remember, though, at this point Jose hasn't touched a musical instrument since leaving home at age seventeen.
"For my fiftieth birthday, with the two of us now empty nesters, Terri got me a set of conga drums. I began practicing, and then went and took some lessons to improve my technique. I had played some percussion growing up, but I still had an awful lot to learn. I began looking on Craigslist for bands and I found one that was looking for a conga player. So I built up my courage and gave them a call. One audition later, I was invited to join the group."
The bandleader happened to be a guy who was the original drummer for a well-known California group called Malo. During the year and a half that Jose played with this group, he made loads of great contacts and learned a lot about the business side of music and entertainment. One influential friend was young pianist/bassist Daniel Wyman, who gave Jose an early opportunity. He would go on to become NATIAO Latin Jazz Musical Director. And, once again, as with Jose's post-military healthcare career, his father would prove to be a huge influence in giving him the bug to get back into the music world.
"My dad and uncle are huge music buffs. My dad has about five thousand vinyl records back home in Puerto Rico—Tito Puente, Beatles, Thelonius Monk, you name it—and every time I go home, I steal a couple of them for my oldest daughter, who's also a big vinyl fan."
As time went on, Jose met more and more people in the industry. Then one night, while doing a gig at Luna (music club on San Pedro), he met Richie Vega, a former twenty-year Army musician. Well, they hit it off, and, a bit later on, Richie said to Jose, "You should totally start your own band."
"My initial reaction was 'Who's going to do the arrangements? Who's going to provide the music? I'm a Type A person, so if I'm going to do it, it has to be really top notch. Also, I would insist on treating the musicians with respect, paying them decently, and treating them like the professionals that they are. But in return, I would insist that they treat the job like a professional responsibility."
And that's how Jose Amador and NATIAO Latin Jazz was formed. Natiao is a word from the Taino (the indigenous people that Columbus encountered when he came to the Americas) meaning brotherhood. Jose took responsibility for finding gigs, recruiting and hiring musicians, choosing the music—all of it. Around this time, Jose met Doc Watkins (owner of Jazz, TX—profiled in our March 2020 issue), the night Doc showed up at Luna scouting for a salsa band.
"This is not my band," Jose replied, "but we are playing at The Plaza Club in a couple of weeks. Come on by and check us out."
Which is exactly what Doc did. That was January of 2016, and NATIAO Latin Jazz has had a twice-a-month standing gig at Jazz, TX ever since the club opened in August of that year.
"We were Doc's first regular band, and we've been doing first and third Thursdays ever since. We still do other clubs around town, but Jazz, TX is our home."
But then, in the spring of this year, came Covid and the resulting shutdown of virtually all live music nationwide.
"It's been real tough on all the guys. If you're a performer, of course, performing is what you want to do. But everything costs money—the venue, the travel, the instruments, all of it. We've tried our best to be creative with live streams, occasional corporate gigs, that sort of thing. We still manage to do regular rehearsals, but it's been very difficult on everybody."
Along the way, Jose—never content to sit back on his laurels—created a second band, known as Terra Nova. Even though Jose still considered NATIAO a Latin Jazz band, it had become very popular with salsa musicians, and Jose needed an outlet for more jazz, Latin jazz, and tropical music classics. And so, between the two groups, Jose was fitting a lot of entertaining into his non-working hours, again all before Covid arrived and threw a monkey wrench into things.
"I guess on the plus side it's given me a lot more family time, a real break from the hundred miles an hour we were doing before," he says.
Thinking back on it all, Jose swears he wouldn't change a thing.
"We all make mistakes along the way," he says. "What's important is not where you've been. It's where you are now and where you're going next. I feel like the music is in me and I will keep going as long as God allows. I will pay it forward and be thankful to whoever hires me. I'll never forget the guy with a neurological condition who first saw us play at Jazz, TX. He spent the whole night dancing, and his wife said to me after the show that he'd been bedridden before he discovered us. Now, she said, he can't wait for the next show. You never know the impact your music will have."
As our time winds down, I ask for final thoughts, lessons learned, or just anything else he wants his readers to know about him.
"Just do what you can to support live music," he says. "All the guys in the bands are trained, accomplished musicians, many with masters degrees or more, and they're out there nights earning maybe $100. That's a genuine shame. Sometimes I take gigs I know I shouldn't, but I do it just to give these guys a bit of employment. I've always had a sense of civic duty, and I regard supporting my musicians as part of that duty."
As we get up to go, he thinks back to the influence of his father and leaves me with an anecdote.
"I remember once when my dad was forty-four years old or so. I was in the Army already and back home on vacation when my dad and I ran into this older-looking guy. He seemed twenty years older than my dad. He told us that his wife had passed away three years earlier, but that he'd recently met this wonderful woman and they were living someplace tiny, with not enough money to buy a house. My dad told him to meet on Monday at Banco Popular. 'We're gonna fix your problem,' my dad told him. 'That guy grew up with me; we're the same age.' he told me later. 'The bank calls me all the time when they foreclose on homes. So on Monday I'm gonna take him to the bank and get him a house.' 'But dad,' my twenty-two-year-old self replied, 'wouldn't you make more money if YOU bought the house and flipped it?' 'Sure,' my dad said, 'but I don't need a house; he does. It's not about you, and it's not about what you have. That's not your legacy. Your legacy is what you give to others.' And the other thing dad taught me was, 'Jose, some people might not remember your name or your face, but they will never forget how you made them feel. If you make somebody feel good about themselves, they'll never forget you.'"
And few things in life have the power to make people feel better than music.
If you're interested in learning more about NATIAO Latin Jazz or Terra Nova, Jose can be reached at amador9118@aol.com, www.NATIAOLatinJazz.com, or 210-633-6575. You can also find information about the bands on Facebook, Instagram, and YouTube.