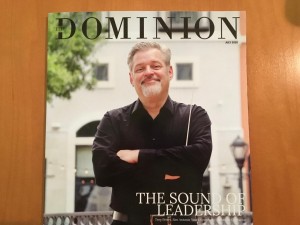 My first exposure to Troy Peters was his presentation at the 2016 TEDxSanAntonio conference, during which he and several student members of the Youth Orchestras of San Antonio (YOSA) offered a compelling lesson in how the performance of music can serve as a metaphor for leadership and for life. Troy has been Music Director and Conductor of YOSA since 2009, when he left a fourteen-year position with the Vermont Youth Orchestra to come to the Alamo City. The journey from Greenock, Scotland (where Troy as born) to San Antonio, Texas has been an interesting one, replete with education, accomplishment, and the breadth of experience one would expect from someone who travels the world teaching and performing orchestral music.
But first things first—why Scotland? Because Troy's father was in the Navy, and being a military brat means moving around a lot and quite possibly even being born in a different country. As events transpired, he would live there for only the first year of his life, eventually settling in Tacoma, Washington, when his dad finally retired around the time Troy was in third grade.
"I didn't come from a musical family," Troy recalls. "But when I was in fourth grade, a very enthusiastic strings teacher, Mrs. Turner, started talking to me about orchestra class and showing off all the different instruments. She was really charming and she's the main reason I started participating in orchestra."
Every orchestra conductor is expert with at least one instrument, and in Troy's case it's the viola. But he chose that instrument not out of any initial love for it, but rather because it was the only one he'd never heard of before meeting Mrs. Turner. He credits his subsequent musical education on excellent teachers throughout junior high and high school. Only then, after playing for a few years, came seventh grade and a call from his junior high orchestra conductor. Troy describes the conversation that ensued.
"'I'd like for you to play this portion of the music for me,' the conductor said to me. And so I did. 'Great,' he said after I was done playing. 'That was your audition. Now you're a violist in the Tacoma Youth Symphony.' So basically I was conscripted into the city's youth orchestra."
But even with this early success, Troy wasn't seriously considering a career in music. His father, following retirement from the military, was working in the physical plant of a children's hospital and his mother was a librarian. And though neither had college degrees, they were very supportive of their son's academic and extracurricular pursuits. To this point, Troy had felt fairly certain he would go to college, then law school, then pursue a career in government. He even got an opportunity to participate in a one-week program with the U.S. Senate. But he came away with a somewhat different view of his presumptive career track.
"I saw a lot of people working their tails off, really dedicated, but struggling to feel as though they'd actually moved the needle on anything. I wasn't at all sure I wanted to devote my energy to that sort of a life. As it happened, when I came back from Washington D.C., I went straight to a youth orchestra concert, and I realized that night that this was where my passion really was. This, I thought, is who I am. This is where my heart is.
"Only problem was that when I started to pivot in a musical direction my dad sort of freaked out. He had always wanted me to go to college and then on to law school. Both of my parents were of the pre-baby-boomer generation and had the mindset that they had made sacrifices so that I could have opportunities they had never had. Their initial reaction—particularly my father's—was why would I want to throw it all away and pursue something in the arts. My dad was a guy who worked with his hands and when he did listen to music, it was Merle Haggard and Hank Williams Jr. The idea that I would pursue classical music didn't really compute at the time."
But by high school, Troy's musical interests had become serious. Not only was he playing in the school orchestra (with Mrs. Turner conducting), he had also begun taking music theory lessons with her husband, who happened to be the band conductor. As if all that wasn't enough, he had a side gig as bass player in a school rock band, a pursuit that contributed in large measure to his continuing love of rock music to this day. Between the theory education and his rock band experience he gained an education in creating bass lines, writing chord progressions, and eventually writing entire scores.
"Those experiences gave me the vocabulary for music," he says. "Not only would I have my youth orchestra conductor review my scores, I'd also ask my friends to play them and tell me what worked and what didn't."
His parents' early skepticism began to change when Troy announced late in his high school days that he had been accepted to Philadelphia's prestigious Curtis Institute of Music. Not only is it one of the two best known music colleges in the country (along with Julliard), but the fact that it was tuition-free helped to convince his parents that maybe there was a future in this career field after all.
"My mom was sold the moment I told her I'd gotten into Curtis. That was Leonard Bernstein's alma mater and he was pretty much the biggest music star of the day as far as she was concerned. That was good enough for her."
Only when it came time to begin work at Curtis did a bad case of imposter syndrome begin to rear its head. Whereas most of the students there were prodigy-level musicians who had come from highly musical families, Troy was one of a handful of students who had gained admission based on his music writing skills. Rather than endure a series of grueling auditions, he had simply submitted the scores he had written as part of his application. Fast forward four years and Troy, BA in hand, was now faced with the question of what to do with the rest of his life. He says that in retrospect he should have maybe applied to Julliard for grad school, but at the time he had a position with the Philadelphia Youth Orchestra, and a local girlfriend as well, and he decided to take a year to evaluate his options and refine his real-world skills.
After a year of reflection and conducting work in Philadelphia, Troy applied to the University of Pennsylvania with the intention of pursuing a Ph.D. in music composition. But throughout his three years of study there, he continued working in conducting, to the point where his school advisors declared that it was too busy of a schedule. However, finally concluding that he already had a decent career going and seeing little value in continuing on to the doctorate, he began actively applying for full-time positions. Initially he imagined that he would become a professional symphony conductor who worked occasionally with youth orchestras. But then, at age twenty-six, he was offered a position as Music Director with the Vermont Youth Orchestra.
"I wanted to be a youth orchestra conductor because I'd had such a great youth orchestra experience myself growing up. This was the opportunity to be what is effectively the CEO on the music side of an orchestra, and so I accepted," Troy reflects. "As it happened, I was also offered positions with two professional symphonies, but both of them became defunct in the years that followed, so I guess my choice was a good one."
In the end, he lived and worked in Vermont for fourteen years. He served not only as Music Director of the Youth Orchestra, but also as conductor of the Middlebury College Orchestra and the Montpelier Chamber Orchestra, although the youth orchestra was his 'main gig.' During his tenure in Vermont, Troy grew the annual budget of the youth orchestra from $300,000 to more than $1.8 million and tripled the number of student musicians. But then came 2009 and the call from San Antonio.
"Like any job, you do a lot of interviews. But then, of course, you have to conduct the orchestra so that the board gets a sense for your operating style. The job is really more about strategic leadership, though, working with the board, fundraising, etc."
YOSA is a stratified collection of nine orchestras in which student musicians work their way up to progressively higher performance levels. In addition to his administrative and leadership responsibilities, Troy spends time with the most advanced students in the orchestra, perhaps half of whom, upon graduating from high school, will pursue careers in music, most through teaching, but some as actual working musicians.
"Remember," Troy says, "that almost every professional musician working today was in a youth orchestra growing up."
Texas has a very strong reputation for student orchestras, and San Antonio's is more highly regarded than most. With its nine-level structure, all but the very newest musicians have experience performing at multiple levels, which makes each group more flexible and refined than one typically finds with youth orchestras.
"Our musicians are very good," Troy says. "What I'm most proud of with YOSA, though, is that they play with such commitment and passion. They're also almost perfect, but even when they're not, they play with guts and they sound engaged and really into it. I've been a part of so many performances where people said afterward that they couldn't believe the amount of energy flowing from the stage. When you're working with youth orchestras, every performance is a world premier, which makes the experience that much more special. There's a definite adrenalin around performing a piece of music for the first time."
Much has been written and debated about exactly what the job of a symphony conductor is and the degree of 'value' that they bring to each performance. For Troy the answer is the same, regardless of the age or skill level of his musicians.
"Whether I'm working with the San Antonio Symphony or with YOSA, my job is to enable the musicians to realize the composer's goals. The composer—whether Beethoven, Brahms, or a relatively unknown contemporary composer—has given us a package of music to deliver, and it's up to us to bring to life the vision of that composer. As conductor my job is to create the circumstances in which everybody can do the best job they're capable of."
But while getting the very best out of a group of young musicians is unquestionably a laudable goal, it doesn't always quite work out that way. Like, for example, the time Troy and a group of YOSA musicians traveled to Shanghai for a concert.
"We all decided to go to a local Pizza Hut for dinner before the concert. But before we had gotten very far into the performance it was becoming apparent that many of the orchestra members were not feeling real well. Eventually many of them were struggling visibly to avoid becoming ill in mid-performance. And a few had no choice but to get up and leave the stage. But I'm proud to say that dug deep and exhibited our best show-must-go-on spirit and made it through."
Or the night the orchestra was performing one of their Classic Albums Live series. The album of choice that evening was Michael Jackson's Thriller, complete with its famous Eddie van Halen guitar solo. Well, when the big moment came, the line was dead between the guitar and the amp, meaning that the entire solo was inaudible to the audience. Aware that his young guitarist had missed a big moment, Troy simply suggested to the audience that they perform the entire piece again, which everyone enthusiastically agreed to. With the technical problem resolved, the song was performed a second time and the guitar solo rocked the house. All of which goes to demonstrate that sometimes leading can be as simple as creating moments.
But as close as Troy has been to classical music since his high school orchestra days, there remains a soft spot in his heart for rock, one that dates all the way back to his day's playing bass in a stage band (favorites include Prince and David Bowie). And he gets plenty of opportunities to satisfy that urge, whether through Classic Album Live concerts, playing mandolin in a local indy band called Slowpoke, or collaborating with legendary contemporary musicians like Branford Marsalis, Jon Anderson (of the band Yes), and Trey Anastasio (of the band Phish).
"I grew up loving rock, and I love it now. Working with Trey taught me a lot," he says. "No question that classical musicians at the highest level have skills that are amazing, but at the same time they can sometimes be insecure about their ears and their ability to improvise music without a script in front of them. Built into that mindset is an assumption that people who can't read music are somehow less fluent. However, as inspiring as it is, having someone like Trey with that level of virtuosity sitting across from me can also be quite frustrating. Having to deploy conservatory skills just to keep up with him has definitely raised my game."
And so, after all of these experiences and performances, how did his parents' views on his career choice ultimately play out?
"I was thrilled that my dad got to see me perform with the Vermont Youth orchestra at Carnegie Hall. Afterward, all he could say was how proud he was of me. And then there came a day when it was clear I was making more money than he ever had, and he thought that was pretty cool too. 'To be successful and happy—that's all I ever wanted for you,' he said to me."
And how has the current health crisis, with all of its cancellations and chaos, affected Troy's life and work?
"This is such a crazy time to be thinking about what comes next. I feel like everybody in the world is perplexed about where we're going in the arts. Everything we know about how the world works is topsy-turvy right now and may be for quite a while. For those of use who are performers there's a natural fear about how we can get back on stage. Will an audience feel safe coming to see us? There are no easy answers. However, I'm really excited about the opportunities for us to find new ways of putting music into the world. People are already doing interesting things playing today—virtual performances that we've never done before. But I'm genuinely excited about the next chapter."
So, now that he's well into this journey and the Covid situation has given him a few unexpected moments to reflect on things, how does he feel about where he's come from, where he is now, and where he's headed next?
"There's a part of me that wishes that at twenty-two I had gone to grad school as a conductor. Instead of doing that, I stood in orchestra pits and waved my arms around. If I had done that, I might have had a different set of opportunities. But then I wouldn't be where I am now, which I totally love. My life is great and I've been very fortunate. I like my gig now and the range of opportunities I have. With my kids (a 12-year-old son and 16-year-old daughter), I'm not crazy about moving at this point. I'm really happy to be here in San Antonio with YOSA, and I feel like we make a big difference. We change kids' lives; that's absolutely true. Ask any of our musicians and they will tell you this experience changed their life. It's enlarging their sense of their own potential. You have to have self-discipline to succeed at this level. It's an utterly transformational thing to have this experience with a hundred people on stage and a thousand people in the audience. I never imagined I could be part of something like that."