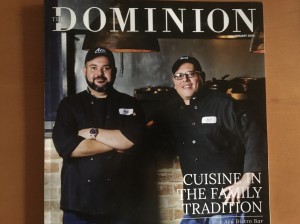 I grew up in a family that knew virtually nothing about cooking (think Hamburger Helper and Chef Boyardee). So anytime I get the opportunity to talk with somebody whose family does know about cooking, does a great deal of it, and even celebrates it, I am immediately envious, and then, shortly after that, curious to learn all that I can about how they go about it. All of which made my recent conversation with Acú Bistro Bar owner Karlo Orduna, his sister Karla, and his business partner Jeff Treviño all the more intriguing and rewarding. Acú Bistro Bar is a newish (open about a year and a half) casual/fine-dining restaurant located in the Dominion Crossing center on the eastbound side of I10, just outside the Dominion main gate. The four of us talked at length about their upbringing, their family, and how they came to blend Mexican, Texan, and Palestinian heritage into a restaurant that was voted Best New Restaurant by San Antonio Express News readers last year.
Karlo Orduna and his two older sisters Karla and Karola were born and raised in Laredo, Texas, but their family story goes back a couple of generations, beginning in the village of Bethlehem in Palestine. Their great grandfather migrated throughVeracruz, Mexico from Palestine in the early 1900's, and then on to the border town of Laredo. The family quickly established themselves as local business owners, operating clothing and shoe shops. Having settled into the Laredo community, the grandfather owned a men's clothing shop that employed a seamstress, a woman who would go on to become the maternal grandmother of the Orduna family. The couple eventually had five children, of which the second youngest would go on to become mother to Karla, Karola, and Karlo.
Their grandfather was an old-country sort of guy and he tried hard to raise his family in traditional Arab values and cultural norms. At one point, one of their mother's sisters showed interest in marrying an American, in response to which her father sent her and Karlo's mother away to Mexico City to eliminate (in theory at least) the temptation of his daughters to marry husbands he had not chosen for them, i.e., men without the same culture and heritage. In the end, this strategy backfired badly when, as a direct result of the travel to and from Mexico, Karlo's mother met her future husband working in customs at the Nuevo Laredo Airport. As the customs agent was going through her bags (and reportedly giving her a generally bad time of it), a few friends arrived to pick her up. They, in turn, knew the customs agent and introduced the pair. In the end they were married in Laredo in October of 1975.
With the arrival of the three children, the family was complete. They lived in the same home for their entire upbringing, a modest place only a few blocks from their grandparents. With very big families on both sides, Karlo describes the family's home life as a more or less unending party.
"Our home was a house with an open door. Our mother was a very welcoming person. There were always people around. Mother and Grandmother were always cooking. They always had music. It was lively all the time, always a party. Our mother's nickname was Acú, which would become the basis for the name of our future restaurant. Our mother was a wonder in the kitchen; she could feed a houseful of people with a simple pot of rice."
With their mother as a constant cook and entertainer, the Orduna home was the nexus of community life, not only on holidays like Christmas and Easter, but on pretty much every other day of the year as well.
"Our high school had an open campus policy that allowed us to go home for lunch and then come back afterward. All of our friends from school would come to our house for lunch. And the kids always helped in the kitchen—chopping, peeling, washing dishes, etc. Whatever Acú needed us to do."
Karlo became interested in cooking while still in high school, and says that he was more into it than his siblings. He describes his time in high school as not at all focused on sports. Rather, he was more the academic type, with cooking as his primary side passion. Having done well in school, he then traveled to San Antonio to do what turned out to be just one year at UTSA before transferring to Miami's St. Thomas University to complete his degree in international business. Once that was complete, he returned to his family home in Laredo and began working in the import/export business with companies transporting materials from the U.S. and then sending completed products back across the border. He began as a runner but within a few years found himself running the place as General Manager.
But throughout these years, the passion for food never quite left Karlo and he indulged it by starting a catering business on the side called Blue Olive Catering.
"This was around the time I first met Jeff through some mutual acquaintances. He had several years of experience opening and operating pizza restaurants in places like Austin, Round Rock, and Cedar Park, but he had recently moved back to Laredo to open another one. We talked frequently in those months about maybe opening up something together. In the end, his vast experience in the restaurant industry turned out to be an important element of our success."
Meanwhile, Karlo's sister had moved to San Antonio in 1994 and she regularly encouraged her brother to relocate to the Alamo City to fulfill his dream of opening a new restaurant. Finally in 2017 he relented, closed up the catering business, left the import/export firm, and traveled north with Jeff to see if they could make it happen.
"I had the biggest itch to open a restaurant in those years; I was tired of catering. Jeff and I went back to basics; we worked through all the steps. We developed tentative menus before committing to anything solid. We wanted casual elegance. Nothing too formal, we'd still have the wines people wanted, but with a casual homey feel. We decided to go in a Mediterranean direction based on my family heritage and also on the dishes that had been doing well in the catering business. We didn't want to do a Mediterranean fusion thing; that had been done too much already. But we were nevertheless inspired by the Mediterranean region."
Early in the process, the siblings and Jeff developed a mission statement that would become the guiding principle for their future efforts.
"To provide an overall dining experience that conveys a message of celebrating life through food and drink. Our goal is to provide an ambience of rustic elegance expressed through the details of the dining experience."
They also decided early on that the wood-fired oven would become the centerpiece of their menu, which would focus on Mediterranean-inspired comfort foods. They identified a company called Mugnaini Ovens in Napa, California, a company owned by Andrea Mugnaini that builds custom ovens using volcanic rock from Mt. Vesuvius. Her ovens are made in a Napa warehouse, but all of the components come from Italy. The company has a vineyard to host meetings and teach their customers how to properly use the ovens.
"Once service starts we keep the oven hot all day. We try hard to have at least one component of every dish use the wood oven."
We spent a good deal of time discussing the challenges of starting a new restaurant and achieving success once things are up and running. People, of course, are the biggest challenge, particularly in a market as competitive as San Antonio.
"We got really lucky with our three original employees, all of whom have been here since the beginning. Turnover can be very high in the restaurant business. Our sous chef has worked with Jeff since Laredo, and one of our bartenders is also from Laredo. We began with fifteen people, but now we operate with far fewer. We have two head chefs—Jeff and Karlo. That's it."
And because virtually nothing in this business ever goes quite the way you think it will:
"Our mother passed in August of 2007, so we wanted to commemorate her ten-year death anniversary by opening in August of 2017. Karlo and Jeff moved here in May 2017, but the planned opening didn't happen due to construction delays, etc. Instead we opened in March 2018."
So what lessons have they learned after a couple of years in the business?
"We wish we'd made the bar bigger! We worked with an architect at the beginning to create a space that featured the wood stove as its centerpiece, but that necessitated some compromises in other areas. Also, our father visits the restaurant from time to time and he's a real stickler for detail, both in the menu and at the tables. 'That water glass hasn't been filled in five minutes,' stuff like that! He's always calling us out on tiny details."
Perhaps the biggest challenge—as with any new business—is generating awareness. Sitting back off the highway in a strip center isn't exactly ideal for creating drive-by traffic, so they have had to get creative about letting the community know they're here.
"Once in a while we get attention that we didn't really ask for or want. One day my cell phone rang and it was someone from one of those television restaurant rescue shows wanting to know if we needed their help. We hadn't even opened yet!"
They've also learned a lot from traveling and from visiting other restaurants, including a drink based on mezcal, a smokey variation on tequila, something they ran into while visiting Oaxaca. And of course the menu is heavily influenced by all those old family recipes.
"My mother used to make an entire stuffed goat. That's a bit much for a restaurant, but we took the idea and created a similar concept in a stuffed quail. We have a handful of regular customers who we try out new menu items on. We're very passionate about the food, about feeding people, entertaining them. It's very satisfying. We love to see the reactions of customers, the simple pleasure of a thumbs-up from a table."
What sort of advice would they offer to anyone else who's pondering the idea of starting a new restaurant?
"Be sure this is what you really want to do because it's going to take ALL of your time to be successful. It's maybe not for someone who's starting a family. A lot of people warned us against it, but here we are! This is literally all we do. If there was a San Antonio eating and drinking team, we'd be on it. If we're not feeding people we're getting fed.
We're really grateful to the community for being so open to what we're doing. Many people come back, they're loyal and they love it. Our employees are passionate and they know what we are working to get across, how we want to do it. They put themselves out there for us. They take ownership and are proud to work here."