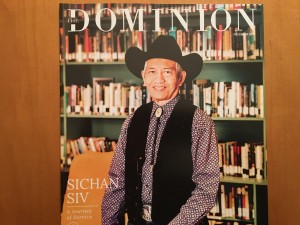 "Any definition of a successful life must include service to others."
                                                                        George H. W. Bush
I first met Ambassador Sichan Siv in 2012 through the Columbia University Alumni Association of San Antonio. He had received his Masters degree from the School of International Affairs in 1981, around the same time I was beginning my undergraduate studies at the engineering school. Our paths crossed again years later when it turned out we were both members of the San Antonio squadron of the Civil Air Patrol, a search and rescue auxiliary of the USAF. From these brief interactions, I could tell there was something unique about this tall, taciturn Cambodian-born Texan. It was only later, when I read his 2008 autobiography "Golden Bones: An Extraordinary Journey from Hell in Cambodia to a New Life in America" that I fully grasped the magnitude of Sichan's life and experience.
Sichan Siv was born in Pochentong, Cambodia, a tiny village close to the capital, Phnom Penh. He grew up the youngest of four siblings (a small family by Cambodian standards), his mother Chea Aun (Mae, mother in Khmer), and his father Siv Chham, a local police chief. The name Sichan means "beautiful moon," chosen by Mae because her youngest son was born under a full moon, a fact that would prove fateful in the years to come. Siv Chham died when Sichan was just nine, and it was Mae who would prove to be the formative influence in his life thereafter.
"Mae was my moral compass and spiritual leader. Her most important words of wisdom to me were 'Never give up hope.'"
Sichan grew up speaking Cambodian and French, and he would eventually accumulate a wide range of language skills that now also include English, Thai, Spanish, German, Japanese, and Arabic. His childhood was, for the most part, an idyllic and happy one, learning to cook at his mother's side, contributing to the family's various entrepreneurial endeavors, and gaining an education that would serve him well in the future. There was, though, the occasional drama, including being hit and seriously injured by a drunk driver while riding his bicycle. Throughout his childhood, the young Sichan was fascinated by all things American, in particular the then burgeoning U.S. space program. He made a point of learning as much as he could about this mysterious country halfway around the world, including memorizing all of the states and their capitals.
Once he'd completed his schooling, Sichan set out to discover what life had in store for him. Having always been fascinated by aviation, learning that the new Cambodian airline was recruiting for flight attendants was an opportunity too good to pass up. It was a chance to gain new skills and visit exotic destinations, places he'd only read about to this point. He was awarded one of the few coveted positions serving onboard the airline's newest jet aircraft, the Caravelle, a position he would enjoy for the next two years, visiting Singapore, Hong Kong, China, Bali, and other exciting locations. Following his eventual layoff from this role, Sichan returned home, embracing the opportunity to pursue his post-secondary-school education in a program of law and economics that would take him to various places within and beyond Cambodia.
"Whenever we said goodbye, my mother would start to cry. This was the first time I had left home and the country for a long period of time. I told her not to worry and that I would be very safe in Singapore. She held my hand tightly and whispered, 'No matter what happens, never give up hope!'"
By the mid 1970's, U.S. involvement in the Vietnam War had drawn to a close, but by then the conflict had overflowed into neighboring Cambodia. The Khmer Rouge were staging regular attacks on Phnom Penh, and their soldiers—frequently no older than twelve or thirteen—began engaging in the mass atrocities that were documented only later in films and news broadcasts.
"After seeing so much injury, death, and destruction, I decided to leave my job as a high school teacher to join the U.S. relief organization CARE. They were in desperate need of well-educated English speakers to help them manage their humanitarian programs."
By 1975, most of the leadership of Cambodia, along with many of the country's wealthiest citizens, had fled the fast-approaching conflict, leaving Phnom Penh a city beset by fear and desperation. When it finally became clear, in mid-April of that year, that the end was near, the U.S. embassy began evacuating all remaining expats and Cambodians who had close ties to the American aid effort. Sichan, as an official with CARE, was offered a seat on one of the last departing helicopters, but ended up missing that flight because he felt compelled to take part in a scheduled meeting during which the disbursement of aid to stranded locals was to be sorted out. Unwilling to leave the country without telling his mother and family caused additional delays and, in the end, the final helicopter departed Phnom Penh without Sichan aboard.
"I was thirty minutes late. My life was going to change forever. As we drove back to the CARE office, I kept hearing, 'The war is over. We will have peace.' The following day, April 13, was the Cambodian new year and Mother's sixty-second birthday. We all prayed that our beloved country would return to the stable, peaceful life of the 1960's."
Instead, the Khmer Rouge began a systematic pogrom of family separations and executions, focusing their efforts in particular on those who they felt threatened their revolution, including anyone who could be in any way construed as elite or educated. Sichan, fearing his family would suffer due to his higher education and association with a U.S. aid organization, decided to flee the country. Slowly, carefully, he began making his way by bicycle across the fraught Cambodian landscape, making his way through checkpoints using forged passes, and even going so far as to shed his glasses, a sure sign of education in the minds of the insurgents.
Making his way steadily northwest toward the Thai border, Sichan was eventually captured near the town of Sisophon, where he was forced to work on a logging crew, a role that would ultimately prove to be his deliverance from the war-ravaged country. Riding on the back of a log-filled truck one afternoon, Sichan leapt from the back and, after being caught by a piece of lumber and dragged for nearly a mile, pulled himself free and fled into the jungle. The next challenge was not getting lost in the dense jungle, and successfully making his way to the Thai border. All he knew was to keep heading west, a goal he pursued by following the sun during the day and the moon—the moon he'd been named after—throughout the long nights.
"My mother's words came back to me in the blackness of that first night. 'Sichan, my beautiful moon, never give up hope, no matter what happens.' I searched for Mae's face on the moon that night."
After a three-day crawl through the tangled jungle of northern Cambodia, a journey that included falling into a pungi-stick-filled booby trap, he emerged on the Thai side of the border, where he was promptly captured and taken to the Wat Koh refugee camp. During his months in the camp, Sichan shared news with his fellow refugees about what was taking place back in Cambodia. He also quickly discovered that many of those detained there were suffering from severe depression, worrying about loved ones back home and uncertain of the future that awaited them. Sichan took the opportunity to begin his own informal English language school to fill their hours and better prepare them for possible futures in English-speaking countries.
Fast forward a few months and Sichan would find himself in Wallingford, Connecticut, sponsored on his journey to America by Bob and Nancy Charles. At once excited and daunted by all there is to learn in a new country, Sichan set out on this next phase of his journey by first tackling the basics—getting a driver's license, opening a savings account, obtaining a library card. Having settled in, Sichan's first job in America was picking apples at Young Orchards in Wallingford. This was soon followed by a stint as manager of a Friendly Ice Cream, where he began learning about how American currency worked and what it meant to cook a hamburger 'medium rare.'
Sensing that greater opportunity lay in the huge city to the south, Sichan next made his way to Manhattan where he was promptly hired as a taxi driver, despite not having the slightest idea how to get from one NYC location to another. In his spare time, he also worked in a flower shop and as a data entry clerk in Chinatown. Around this time, and because education had always been his true passion, Sichan began searching for graduate programs in the U.S. Originally thinking that an MBA was the way to go, he was surprised and pleased to receive an invitation to attend Columbia University's School of International Affairs, an opportunity that offered three important attributes: he was accepted, he was offered a full scholarship, and the program began the following week.
In the midst of adapting to his new country, advancing his education, exploring various career opportunities, and becoming an American citizen on December 21st, 1982, Sichan next made the most important contact of his life, for that was the day—September 15, 1977—when he first met Martha Lee Pattillo, the woman from Pampa, in the Texas panhandle, who would spend the rest of her life by his side as wife, partner, and confidant. The couple met in New York, the introduction having been arranged by a mutual friend. They would go on to spend the next several years sharing adventures, travels, and work opportunities, until finally, on June 24th, 1983, over dinner in Bangkok, Sichan proposed. The couple was married on Christmas Eve of that year.
"I felt very ecumenical in that moment: Here I am, a Buddhist married to a Presbyterian. I came to America through a Catholic agency and got jobs through a Jewish organization. I have worked for the Lutheran and Episcopal churches helping refugees of all faiths."
Sichan's first taste of American politics came in the early 1980's when he and Martha were invited to a U.N. reception in New York City. There they were introduced to newly-elected President Ronald Reagan and invited to visit the White House. This would prove to be a fortuitous visit, the start of a long and productive relationship between Sichan and the American political system.
His first direct involvement in the electoral process came in 1987 when he volunteered for the coming presidential campaign of George H. W. Bush, then serving as Reagan's vice president. Like many campaign volunteers, Sichan had added his resume to the stack of those aspiring to gain a position in the new administration. By a stroke of good timing, one of the positions that incoming Chief of Staff John Sununu was looking to fill was for a multi-lingual person who could handle national security issues at the Office of Public Liaison (OPL). Long story short, Sichan got the call from one of Sununu's aides, interviewed for the role, and began his first job in the Bush White House immediately following the inauguration ceremonies in January of 1989. He would serve in this role, giving speeches across the country and working to generate support for the president's various international initiatives, including during the difficult days following the Chinese government's bloody repression of Tiananmen Square in June of that first year. During these years, Sichan had the opportunity to return to Cambodia as a representative of the U.S. government, an opportunity that forced him to revisit the tragedies of his youth, including standing on the sites where most of his family members, including his mother, had been killed by the Khmer Rouge.
"In confronting the killing fields in person, I realized that I might have come full circle. The greatest tragedy for me was that my mother died in brutal circumstances, murdered by the communist death machine. Though I never saw my mother again, her spirit did not perish with her. Mae was full of sacrifice and wisdom. She told me 'Happiness is something you cannot keep unless you give it away. Hate ends not with more hate but with love. Love triumphs over death and destruction, if only one can hold onto hope, endure the pain, and wait for the light.' I found that light, when the villagers praised me for my survival, freedom, and success in America."
Years later, in March of 2001, Sichan would be nominated for, and unanimously approved by the U.S. Senate, to serve as a U.S. Ambassador to the United Nations, in which role he served as a voice of the U.S. president and government during some very difficult times, including the 9/11 attacks in New York, Washington D.C., and Pennsylvania.
So how did San Antonio come to be part of Sichan and Martha's journey?
"We had been all around the world (Sichan has been to more than 130 countries) and we decided we wanted to settle in Texas. We looked at several cities and chose San Antonio because we love the strong military connections. Also, Martha told me in the spring of 2006 she was going to leave the World Bank, where she had, since 1989, worked as a Senior Information Officer. She wanted to focus on helping women around the world who had been abused and battered, those who supported themselves by making and selling handicrafts. I had agreed to leave government by that time as well. There's lots of history here, and it doesn't hurt that we both speak Spanish. Also a main selling point was the airport because of the ease of traveling, which I continue to do a lot. San Antonio is a great city, one I would recommend to everyone. It's a big city with a small town atmosphere—the museums, the art community, the faith community."
Sichan and Martha lived in Castle Hills until Martha's passing three years ago. Since then, Sichan has been active traveling on missions with the First Presbyterian Church of San Antonio, travels that have recently taken him to Mexico, Lebanon, Iraq, Guatemala, Turkey, Jordan, Indonesia, Germany, France, and Paraguay. He's recently learned Arabic through a program in Jordan organized by Texas Tech University in order to work more effectively in the Middle East. In addition to his mission work, Sichan also continues to volunteer with the Civil Air Patrol, the San Antonio Police Department, and the Christian Motorcyclists Association. Each year this latter group travels to developing countries to donate motorcycles to pastors so they can better serve their under-developed areas. Volunteerism and service are the uniting themes in a life that has been filled with such opportunities in many locations around the globe.
"One of my pastors, Scott Simpson, once told me that I been 'elected for salvation and service.' I confess I have felt that way since I was a young man, and it was reinforced many times throughout my life with Martha. There's a plaque at the White Deer Land Museum in Pampa that says 'Martha Pattillo Siv—She's everything to me and simply the best.'"
What would Sichan say are the characteristics that have enabled him to have such a successful and influential life?
"Easily the most important has been adaptability, the ability to survive the most brutal circumstances, whether the killing fields of the Khmer Rouge, life on the run through the Cambodian jungle, or months in a refugee camp. I managed to keep myself busy teaching English. And I adapted to life in America by doing the best I could."
And, now that so many years have passed, how does he reflect back on the horrible events of that time?
"It's very painful and I try not to dwell on that time. But I believe it's important that people never forget, which is why I served as a founding commissioner of the Texas Holocaust and Genocide Commission, a state organization I was involved with from 2009 – 2019."
A forthcoming documentary about Sichan's life and that of another genocide survivor was funded by the commission and produced by Texas Tech Public Media, with the goal of educating, eradicating, and emancipating people's thinking on this difficult subject.
In October of last year, as George H. W. Bush's health began to fail, Sichan received a message from Jean Becker, Bush's Chief of Staff, inviting Sichan to be one of five non-family people to accompany Bush's body from Houston to Washington D.C. on Air Force One in the event of his passing.
"Of course, I was extremely honored. When President Bush finally passed away on November 30th, I flew to Houston and boarded the plane, unsurprised to see that the entire operation was being handled with the same level of precision that had characterized his administration, right down to takeoff from Houston and landing at Andrews AFB within seconds of the scheduled time."
And so how to summarize a life filled with such an immensity of emotion, tragedy, achievement, and love? Not sure I'm up to that challenge, so I'll leave it to the ambassador himself.
"There have been three most important people in my life: Mae, who gave me life; Martha, who gave me love; and George Bush, who taught me leadership."