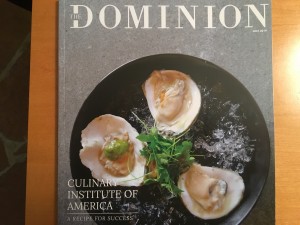 The Culinary Institute of America (CIA) is the preeminent culinary college in the world, and the San Antonio campus at The Pearl is one of just three locations in the U.S. (the others being Hyde Park, New York and Napa Valley, California). Those of us fortunate enough to live in San Antonio have long known the Alamo City for the astonishing quality and diversity of its restaurants, but—just to make it official—UNESCO named San Antonio a Creative City of Gastronomy in October 2017, one of just two cities in the U.S. to be so honored. The San Antonio campus of the CIA opened in 2008, and it has since gained a well-deserved reputation for the quality of its instruction and the culinary innovation of its graduates. Notable local alumni include, among others, Johnny Hernandez of La Gloria (Hyde Park grad), Steve McHugh of Cured (also Hyde Park), and Diego Galicia of Mixtli (San Antonio grad). To get a bit more insight into this gem of the San Antonio culinary community, I recently spent some time speaking with Associate Dean of Degree Programs Jose Frade. We met in the school's new restaurant/classroom, Savor, located in The Pearl.
There's plenty more to say about the college, its students, its mission, and its achievements, but first a bit of background about Chef Frade and how he came to his role at the CIA. He was born in Houston but lived in McAllen from second grade through high school graduation in 2002. Following high school, Jose began a psychology program at UTSA but quickly discovered that this was not the path that was going to make him happy. However, food had always played a huge part in his life and he had learned much about it informally from his mother. He recalls always having fresh food at the table, but notes that during the frequent dinners the family hosted, it was the hospitality aspect of the events that really captured his imagination. And so, after completing his first year at UTSA, he transferred to the Texas Culinary Academy in Austin.
Jose completed his associate degree and when graduation time came, the search began for his first externship, a chance to try out his new skills in the real world of restaurants, kitchens, and customers. He met Chef Jonathan Parker and was offered a position at Pesca on the River in San Antonio, where he spent much of his time shucking oysters at the oyster bar. At this point, Jose pauses to offer a bit of wisdom to anyone considering a culinary career.
"It's not like what you see on the Food Network or The Cooking Channel. Some people come to this vocation expecting Iron Chef or Beat Bobby Flay, but in reality the culinary world is a lot of hard work and long hours, so you need to have a passion for what you're doing."
Eventually Jose was promoted to saucier (which is just what it sounds like, i.e., the chef in charge of making sauces, the mainstay of most dishes). After two years at Pesca, Jose met Chef Brian West, the chef who had opened Café Mariposa, subsequently renamed Café Paladar. He took a position there as a cook, but was quickly promoted to sous chef. After a few years at Café Paladar, a family illness caused Jose to return to the McAllen area to help with family responsibilities. There were no culinary opportunities in the valley of the sort Jose aspired to, so for the five years he lived there he would spend two working for Lone Star National Bank and another three in commercial real estate with Coldwell Banker, opportunities made possible by the fact that he had obtained a bachelor's degree in business during his time at Café Paladar. Following the passing of his father, Jose began once more searching for opportunities in the culinary field.
"My wife recommended a school in Pharr, Texas called the International Culinary Institute. I was hired there as the lead chef instructor. They had only been open for a couple of years, had two hundred students, and were really struggling from a lack of skilled instructors. I wore a lot of hats there, responsible not only for six chef instructors, but also curriculum development, purchasing, and whatever else needed doing."
In the spring of 2016, Jose's wife received an offer to come to San Antonio to serve as an assistant principal with the IDEA charter school system, and Jose immediately began looking for opportunities here. By then, The Culinary Institute of America had been up and running at The Pearl for about eight years and they were in the midst of recruiting for an admissions counselor. He was already familiar with the school's reputation and knew this was the place he wanted to be. By April 2016, having received an offer to come to the CIA, Jose and his wife were back in San Antonio, where he was quickly promoted to the position of assistant director of admissions, then, about a year later, to associate dean. In his current role, all of the campus faculty report to him, and he also oversees operations at Savor restaurant, since it is an active classroom.
"It's quite a challenge," he says, "because we are chefs who are also educators. At the same time I'm learning a lot from our students. I'm also in Savor a great deal of the time, both watching and learning."
Savor serves as a real-world laboratory for students to hone not only their kitchen techniques, but also their front-of-house skills. A dining experience is not only about the food; it's also about the interactions with wait staff, sommeliers, etc. A semester working at Savor prepares students for those all-important face-to-face experiences with a restaurant's customers.
The CIA serves as an anchor establishment for The Pearl, along with Hotel Emma, and it is an excellent complement to the numerous high quality restaurants in the area. The presence of the college in San Antonio has become increasingly important to the city's reputation and sense of community, not only in a culinary sense, but as an educational resource in general, particularly due to the school's strong focus on offering significant financial assistance to its many applicants. This financial assistance is achieved through a partnership with the Goldsbury Foundation and other nonprofit organizations.
"Our ability to support talented, aspirational students and to place highly qualified graduates back into the San Antonio community is a huge part of our mission," Jose observes. "More than half of our graduates remain here in San Antonio, and even those who leave to pursue other opportunities frequently return. San Antonio is a city with a strong sense of community and the institute supports that in every way that we can."
Students can begin degree programs three times each year—September, January, and May—and with small class sizes the educational approach is extremely hands-on. Successful and safe education in a live kitchen environment with as many as 18-20 students at once requires a high level of organization and attention to the tempo of what's taking place at all times. Students come from a wide variety of backgrounds, some traditional (i.e., straight out of high school), others much less traditional (retired military, mid-career changes, etc.). The mix of traditional and non-traditional students is about fifty/fifty (ditto for the male/female mix), and simultaneously meeting the needs of such a diverse student body is a challenging task indeed, one that keeps Jose and his academic colleagues on their toes all the time. Worth noting, as well, is that students come not only from a diverse range of backgrounds, but also bring with them an equally wide range of aspirations for what to do with their culinary educations. Some aspire to open restaurants of their own or simply to work in one, while others are headed for careers in catering, hotels, event planning, or even sports and entertainment. The San Antonio campus offers two associate degree majors—Culinary Arts and Baking & Pastry Arts. Graduates can then transfer to the New York campus to complete bachelor's degrees in Food Business Management, Culinary Science, or Applied Food Studies. In addition, because not everyone has the time and flexibility to pursue a full two-year degree, the school offers a wide range of alternative educational opportunities, ranging from one- to three-hour courses to two- to five-day culinary "boot camps."
In addition to teaching the fundamentals of world-class cooking, as a true college—as opposed to a cooking school—its educational programs also explore more far-reaching matters like food policy, governmental practices and regulations, hospitality management, and sustainability from the standpoints of food waste, impact of genetically modified foods, reduction in the use of antibiotics, and various green aspects of restaurant operation. And the institute itself strives not only to teach sustainability but also to demonstrate it through its day-to-day practices, e.g., obtaining a green certification for composting, sourcing of eco-friendly food supplies, and even pedestrian practices like the choice of which to-go containers to use. From the standpoint of the institute and its leadership, sustainability is an ingrained part of the culture, one that graduates inevitably gain a deep understanding of during their time in the CIA kitchens and classrooms.
"It's hard to find a chef here who's not invested in one or more food-related political issues," Jose says. "We're all passionate about food policy issues. As educators, we're on the front lines, seeing how these issues play out, not in theory but in the real world."
Jose admits to having a great time in his current role, largely due to the close interaction with the small classes. And all those years he spent back in the valley working in banking and real estate?
"Actually those have come in pretty handy, as things turned out. If you're going to open a restaurant, it sure helps to know something about commercial real estate. And financing your new culinary venture? Doesn't hurt to have a bit of background in banking. Sometimes things happen for a reason."
Even the way in which Jose grew up contributed significantly to where he is today in his career.
"My mother was the better cook and she owned the Latin hominess aspect of our family meals. But my father was from Spain and he traveled a lot, so he brought to our table new ideas about European cuisine—oils, cheeses, that sort of thing. So even though I grew up in south Texas, I've had a European way of looking at food since I was a boy."
CIA students and graduates also gain a wide range of cooking experiences, both from the breadth of the teaching talent available on campus to the externships that send them far and wide to learn as much as possible in the real world in order to complement what they encounter at the school. These opportunities include the chance to study off-site in Singapore, Italy, and Latin America. And, of course, there's the San Antonio food scene, in which the school and its students and faculty participate regularly, from the Paella Festival to Fiesta events and beyond.
"A big part of what our students get from their time here is not just their culinary education, but membership in an alumni network that spans the globe. The CIA has more than 50,000 graduates at this point, working in restaurants and other food-related businesses all over the world."
And because cuisines evolve, the college is evolving as well.
"People naturally think of Latin cuisine when they think of food in San Antonio (a view reinforced, no doubt, by the CIA's Latin American Cuisine Concentration and the yearly Latin American Summit hosted by the Texas campus), but there is so much more than that happening here. This city is a collection of immigrants from all over. We have German and other European foods, more variety than nearly anyplace else. To focus our efforts only on Latin cuisine would be to sell our students, and our city, short."
And how has this career path affected Jose's family life, especially now that his professional life is less about the kitchen and more about educational administration?
"My sons Xavier (7) and Santiago (4) are my harshest critics when it comes to cuisine at the family table. I had to come up with six different rice recipes before I found one they liked."
As Jose and I began to wrap up our conversation, the first wave of students was behind us in the kitchen getting started on the chopping, mixing, and other tasks necessary to be ready for a night of world-class culinary service. It was a great backdrop for some final reflection on where Jose is now in his life and what he would recommend to anyone who's contemplating the culinary arts as a career choice.
"I love what we're doing here; it's the perfect balance for me. We're creating the next generation of culinary experts, contributing to the culture of our home city, and making available to our students opportunities that will define who they become and how they will contribute to their communities, not only at the dinner table but in every aspect of their lives. How could I not be passionate about that?"
*          *          *
A Brief History of the Culinary Institute of America
May 22, 1946 – The New Haven Restaurant Institute is opened in Connecticut by founders Francis Roth and Katharine Angell.
1951 – The school's name is changed to The Culinary Institute of America
1972 – A new campus opens at Hyde Park, New York. Its main building is named Roth Hall.
1973 – The school opens its first on-campus restaurant, the Escoffier.
1995 – A second campus location is opened at Greystone, in California's Napa Valley.
2008 – The CIA opens its third campus at The Pearl in San Antonio, Texas.
2010 – The school opens its first international campus with the launch of The Culinary Institute of America—Singapore
"We have a tremendous legacy, a deep reservoir of faculty and staff talent, unsurpassed facilities, and an alumni network of leaders and future leaders. (Our) mission is to take a great institution and make it even better. In doing so, we will move in some new and quite exciting directions."  
Dr. Tim Ryan, President, The Culinary Institute of America