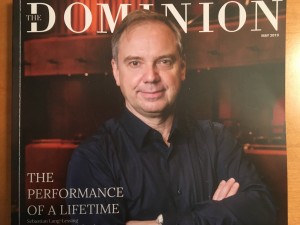 "I feel like I know a lot about the things you've accomplished," I said to begin our interview at The Tobin Center, "but I don't really know anything about who you are."
Sebastian Lang-Lessing has been Music Director and Conductor of the San Antonio Symphony since 2010, and his many career achievements and accolades are well documented on any number of web sites and magazine articles, hence the first half of my opening statement. The goal of this piece, though, was to learn a bit more about the maestro as a person.
And so we started in the small town of Gelsenkirchen in northern Germany, a former mining town not far from the Dutch border, where Sebastian was born, the youngest of four, all of his siblings girls. The now-prolific musician is clearly proud of his humble origins:
"It was once one of the biggest coalmines in the world, but now it's a World Heritage site because of the architecture and art spaces. It's all very green and mountainous—fascinating how such an industrial landscape can have a second life."
The Gelsenkirchen/Essen region is rife with cultural amenities, including orchestras, theaters, and opera houses, the latter of which there are no fewer than eight of within 100 kilometers. It was an environment not wasted on the young Sebastian. And though many of his immediate relatives were in the medical profession, they all also played instruments.
"My father was a pediatrician and my mother was a physical therapist, so I basically grew up in a children's hospital. And while there may have been an early expectation that I too would pursue a medical career, once I won my first musical competition at age eighteen, it became clear that my path would be a musical one."
Growing up with three older sisters—quite a bit older, as his youngest sister is seven years older—he describes his upbringing as one in which he effectively had four mothers. He was pampered, but also disciplined. But he felt a distinct generational gap with his parents, particularly with his father, who was born in 1915.
"I've always felt like a romantic soul, possibly one born sixty years too late."
With his father, grandmother, and other family members accomplished musicians in their own rights, it feels inevitable, with the benefit of hindsight, that Sebastian would pursue such a path as well. And so he began seriously studying piano at age six, with clarinet following soon thereafter. He studied in Lubeck and Essen, but throughout he felt like there was something missing, something limiting about the experience.
"My best friend's father played viola in the Gelsenkirchen Orchestra and I found myself spending a great deal of time in the pit with the conductor, so much so that by age eleven I already pretty much knew that I wanted to be a conductor."
Sebastian had always been extremely physical and he began learning to dance at a young age (ballet, then later ballroom).
" I continued dancing until my teenage years when it was suddenly no longer the cool thing to do. But the physicality never left me and I sometimes think it may have gotten in the way of my piano playing."
In truth, there were several aspects of Sebastian's character that suggested that a career in piano might not be the ideal choice. Aside from the physicality that he describes, and the potentially limiting nature of focusing on a single instrument, he notes also that mastering piano (or any instrument) makes for an extremely solitary existence.
"You have to possess the dedication to practice eight-ten hours a day, which I did. But I am at heart a communicator, which I think is the main trait that sent me down the path of conducting."
But what else might a talented young man spend his time doing aside from laying the foundations for a musical career?
"I was pretty good at school, and I was interested in a lot of things. In particular I was intrigued by languages—Latin, French, Russian, English—(which, combined with his native German would serve him well later in life as he traveled from one continent to another). I was also passionate about history and art. I explored all the cathedrals I could find and for a while I was quite focused on visiting as many Rembrandt exhibits as possible. Fortunately, living close to the Dutch border, there were many small collections that weren't known about by a lot of people. I had a culturally rich upbringing, though that wasn't because my parents pushed me; it was mainly just me."
And because Sebastian has always been a physical sort of individual, this manifested not only in dance but also in sports, with the future orchestra conductor learning to ski from the age of three. He continued skiing into his early twenties, becoming adept enough to participate in slalom competitions and serve as an instructor. But wasn't he concerned about injuring himself, now that he was well down the road to his orchestral career?
"I didn't fall much at all, because I was taught in a manner that focused on control. Now everything is about speed and risk taking. There were no helmets when I was young. You simply learned to be in control."
Surely achieving excellence in such a rarified field as classical music requires exposure to teachers, mentors, and role models. Who were Sebastian's?
"Of course I had several wonderful piano instructors—Wilhelm Rau, Detlef Kraus, and others. I also carefully watched well-known conductors like Leonard Bernstein and Austrian conductor Herbert von Karajan. Around age twenty he had the honor of meeting Bernstein, and he took the opportunity to share with the famed maestro his goal of studying at Julliard, New York's renowned music conservatory.
"Are you crazy?" was Bernstein's unexpected response. "You live in the heart of European music. Study there and then come visit me at Tanglewood (summer home of the Boston Symphony) in the summer."
Sebastian also had the opportunity to observe many important conductors during his formative years, e.g., Günter Wand, Giuseppe Sinopoli, and others, all very formative influences on the young conductor. But sometimes creative influences emerge from unexpected directions.
"Stage Director and Head of the Berlin Opera Götz Friedrich was an important influence, as was French choreographer Maurice Béjart. Relationships like that can be transformative and it's important to remain open to creativity wherever it may come from."
Sebastian met his wife Britta Funck while both were attending Hamburg University on Aussenalster Lake. She was studying a baroque instrument known as a viola de gamba, and though both were pursuing musical careers, their professional paths did not often cross, with the couple having only performed once together. She later went on to become an artist manager. But the couple's life changed dramatically six years ago when they adopted a 4½-year-old Colombian girl named Ximena. They were matched with Ximena because of their artistic backgrounds, but though the young girl has tried her hand at piano and ballet, they are keen to not push her in any particular direction, preferring to let the girl make her own decisions and find her own path.
"We had a romantic idea of what adoption would be like, an idea that ran headlong into the reality that every new parent discovers with their first child. It has definitely been an adventure, but one we wouldn't change for all the world."
We discussed numerous aspects of the conducting experience, including the pros and cons of conducting from memory versus referring to the printed score. And while Sebastian leans toward the former, he sees benefits to both approaches
"Regardless of your approach, you have to pretty much memorize ninety percent of it anyway in order to stay several pages ahead of what's happening in the moment. I feel as though conducting from memory is liberating in that it allows me to focus my energies on getting the very best from the musicians. The conductor is the one who's afforded the least forgiveness if something goes wrong, so it's best to know everything that's coming in the piece."
In a nice piece of serendipity, while driving home from our interview, I happened to hear an NPR interview with Philadelphia Orchestra conductor and music director Yannick Nézet-Séguin. During his discussion with Terry Gross, he discussed the importance of not letting the emotion of the music overwhelm the technical requirements of performing the piece. And while I did not get an opportunity to discuss Nézet-Séguin's perspectives with Sebastian, the sentiments he expressed feel consistent with many of those espoused by our own maestro.
"It is," Sebastian offers, as though playing off Nézet-Séguin's words, "very important that you have a clear idea of what you want to say with the work. After all, no two performances are exactly the same, even if you've performed the same work dozens of times. There is always an element of spontaneity."
"But what," I ask, "if you feel like something has gone wrong or the performance is not going as well as you'd like?"
"You do not have the luxury of looking back. What's done is done. You keep moving forward. The show must go on."
In an admittedly extreme example of 'the show must go on,' Sebastian described, in a 2012 interview with NPR's David Martin Davies, an incident in which a violinist passed out in mid-performance and had to be carried off the stage as the orchestra continued performing the piece. To the audience's relief—and Sebastian's—the musician was able to reappear on stage at the conclusion of the piece to assure everyone that she was all right.
As the leader of 100+ musicians—not only during performances but also throughout all phases of the concert season—how does Sebastian see his role?
"My job is to help each musician aspire to be his/her very best, whether that is here in San Antonio or elsewhere. For some musicians, San Antonio is their end destination, the place they've chosen to call home. For others it will be a stepping-stone to another city, another orchestra. I welcome some turnover. Musicians should always aspire to be better, to accomplish more than they have. Here in San Antonio, we currently have musicians from Albania, Bosnia, Syria, China, Taiwan, and elsewhere, Nationalism is the last thing you want in an orchestra. It's important to embrace different cultures. Music is all about building bridges; it's about communication.
Then, inevitably, we got around to discussing the challenges the San Antonio Symphony has undergone in recent years, both financially and organizationally. These have been thoroughly reported in the local press and elsewhere, but Sebastian has lived them since coming here in 2010.
"The business troubles of a few years ago definitely got in the way of artistic expression. For the past nine years, with all of our budgetary challenges and the turnover of personnel, I've been the primary stable factor. I've dedicated myself to protecting the organization and achieving a state of normalcy, stability."
And when probed about the current state of the organization:
"I don't know the answer to the current state of the organization. San Antonio hasn't always embraced its symphony with the verve that other cities have. It's not something you hear talked about in the recordings when you arrive at the airport. It can feel tenuous. I think there is a fear of a perceived intellectualism or elitism. Many don't attend because they feel like it's expensive, they have to dress up, or they don't understand the music. Honestly, it's far more expensive to go to a Spurs game than it is to attend the symphony!"
He concedes that marketing the symphony in a city like San Antonio can be challenging.
"There's a perception on the part of some that we have to reach out to every one of the million-plus citizens in this city in order to be successful. In fact, that is not the case. I believe we should focus more of our energies on the small percentage of those who already attend. We want those people who are prepared to challenge themselves, culturally and intellectually, to learn new things. We're not doing anyone any favors if we reduce the level of sophistication of what we're doing in an attempt to attract a wider audience."
And does the maestro feel that he has accomplished what he set out to when he arrived nearly a decade ago?
"When it comes to the artistic side—building a technically outstanding orchestra, creating a distinct sound—I would say mission accomplished. I sincerely hope that this sense of artistic pride and technical excellence outlives my presence here. I won't be here forever; we all have to move on from time to time. The challenge that remains, I believe, is to see the orchestra become more a part of our collective community pride."
When asked what personal characteristics have enabled him to be successful in what is admittedly a very exclusive and difficult career field, Sebastian points to a sense of incessant optimism.
"I have in the past possibly been a bit naïve about personal and professional relationships. I trust everyone at first, unless they give me a reason not to. And while I've been hurt several times in the past because of this, I do not want to see the world become a place where you have to assume the worst about people or you cannot trust people."
"So," I said as our time drew to a close, "tell me something most people don't know about you, something that has nothing to do with music."
"When I was in Tasmania (He also conducted an annual season in Sydney with the Tasmanian Symphony Orchestra), I began writing a crime novel. I've always wanted to be a writer, but to do a good job of it requires the same level of seriousness that music has demanded of my life. The book has a long ways to go yet, but it's always lurking there in the back of my mind."
We ended our conversation with a few closing thoughts and reflections on his decade spent in the Alamo City:
"Keep going. Don't let yourself wear down. Don't let anyone get in your way or tell you you're not in the right place. It's good to rethink from time to time about why we're here. Every person we meet, we meet for a good reason, so be thankful for all of these experiences. Music is enriching our culture. When you listen to a symphony or a concerto, your emotional peaks will be expanded. That's what we work for. Our mission of expanding the audience's emotional depth is the most important. It's all about taking people to places they will never go without us."