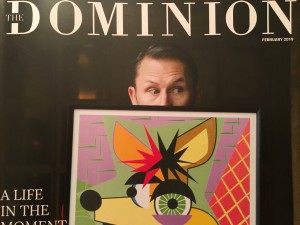 Imagine for a moment the paradox of being, for nearly two decades, one of the most well known, best loved personalities in your hometown. Now imagine that for that entire period of time, no one in your town has the slightest idea who you are. Sounds a little ridiculous, and yet this is the story of Rob Wicall, the man who served as The San Antonio Spurs Coyote mascot for the past sixteen years. And, while we're busily pondering the irony of being one of the most famous guys in a city full of people who have no idea who you are, how do you even become a professional sports mascot? And what makes a person want to do that for a job? And what is the life of a full-time mascot like? Yeah, lots of questions, but let's start at the beginning.
Rob was born in Springfield, Illinois, but moved to Plano, Texas shortly after his first birthday, when his father was transferred there. At age seven his parents divorced and he moved again, this time to New Braunfels with his mother, who lives there to this day. He completed his schooling there while also taking part in local community theater and school athletics, competing in soccer and AAU track, skills that would turn out to be really handy later in life, as we will see shortly.
"So," I ask, "what did you want to be when you were a kid? What were you good at?"
"Surprisingly for an artsy guy, I was actually really good at math and science. When I was a kid I wanted to be a jet fighter pilot," he replies, "like my stepfather. Only then I found out you have to have 20/20 vision, which I did not (this in the days before lasik). So it was on to Plan B. Problem was that at that time I didn't have one, which is part of how I ended up at Sea World."
And what about childhood heroes? Rob recalls being drawn to physical comedians like Gallagher, Steve Martin, and Chevy Chase. He talks also about the woman, Elizabeth Elliott, who directed theater back in New Braunfels.
"She taught me a lot—like how to carry a crowd, how to know when you're on and when you're not."
Rob is the only male of four siblings, with two older sisters and one younger. Because the age differences between the four of them are quite wide, he spent a good deal of time alone when he was young, which meant becoming very creative about entertaining himself, another formative experience that would prove invaluable in the years to come. Approaching the end of his senior year of high school, he was still uncertain what would come next on his life journey. Then, while taking part in a show one day with an old friend from his theater group who was by now also working at Sea World, the friend encouraged Rob to audition. Next thing he knew, Rob was the announcer for the water skiing show. Having done a bit of water skiing in his youth, Rob naturally wondered whether he was good enough to actually be in the show. Well, it took a couple more years of practicing, but eventually he was good enough and he made the transition from announcing the show to taking part in it.
Having by this time also enrolled at UTSA, Rob continued with his Sea World gig while studying, graduating in 1994 with a BA in Management and Marketing. Throughout all of this, Rob had also continued his local theater work and even dabbled a bit in commercial and film endeavors (check him out in the pilot episode of JAG!). By the end of his first summer after graduation, Rob decided to have a go at a "real job." He took a position selling homes, but after six months sitting in a model house waiting for buyers, he realized that the normal life was not for him. So it was back to Sea World.
The big turning point came in 1996, when a fellow Sea World water skier, who also happened to work as a Silver Dancer for the San Antonio Spurs, let Rob know that the organization was forming a new group called The Extreme Team, a venture designed to bring basketball fans closer to the players. "You should try out for it!" she said, and that's exactly what he did. Only then, while in the process of auditioning for The Extreme Team, the then Coyote mascot for the team noticed Rob and suggested that he try out for the mascot role on a part-time basis. He won that position and it took only a year as the part-time Coyote mascot for Rob to realize that he liked the mascoting life a lot. And so he began sending out demo tapes to other teams, which is how he ended up as the mascot for the Washington Wizards and Capitals for several years.
Rob had married just prior to relocating to DC, but it turned out his new wife did not much care for the northeast and was keen to get back to Texas. In addition, the owner of the Capitals and Wizards at the time had recently sold the hockey team, meaning that Rob was going to be forced into a position of choosing one or the other to mascot for. And so the couple moved back to San Antonio in late 1999. They owned a home here while living in DC, but the renters had abandoned the property and left it in unsellable condition, meaning that Rob and his wife returned to this area without jobs and needing to fix up their home as quickly as possible. Rob's first thought was to give the Spurs a call to see what was new. Plenty as it turned out!
Rob became the new full-time Coyote mascot shortly after returning to San Antonio, beginning his long tenure with the team at the Alamodome, then moving to the AT&T Center when it opened for the 2002/3 season. One of Rob's many points of pride is that during his sixteen-year tenure in the job, he never once missed a home game and he was the only person—players and coaches included—to attend every single Spurs game ever played at the AT&T Center from its opening until his retirement last year, including over 100 playoff games and countless non-game appearances, including private gigs, hospital visits, birthday parties, you name it.
"The Coyote has never been about money for the Spurs," he says. "It's about brand building, being out there and being a positive influence in the community."
He very much appreciates that the team has never tied the character to sales or money. He's never been asked to be a pitchman. The character is almost bigger than the team itself.
"But what about the energy?" I ask. "It must be exhausting being 'on' like that all the time."
"It's a challenge," he replies. "No question about it. It's physically and emotionally demanding. Different people come at mascoting in different ways, but you just have to go with your skill set. Since I've spent much of my life performing (theater, comedy) and I also have a pretty strong athletic background, I've been able to exhibit a lot of physicality in my character."
It sounds borderline cliché, but for Rob mascoting has always been more of a lifestyle than a job. There's never much time off, except for a brief break in the summer. And the role is not just about interacting with fans and taking selfies. There is a challenging creative aspect to it as well, one that plays nicely into his theater and comedy background. The Coyote is responsible for writing, developing, and coordinating with stadium staff to pull off at least one lengthy skit per game during one of several mid-game time-outs. These are typically one and a half to two minutes long, which doesn't sound like much, except when you're out there by yourself in front of 18,000 people, with lots of spotlights shining on you, and you're counting on the lighting guy, the camera guy, the props guy, the announcer, and the other skit participants to all come through at just the right moment.
Oddly enough, The Coyote also gets to "dress up" for various mid-game skits, sometimes as a holiday character (Santa Coyote), sometimes as a boxer to go a couple of rounds with an opposing mascot, sometimes even as a "regular" fan trying to sneak into someplace he's not supposed to be. And it's hot inside that costume. Rob regularly changed at halftime because the suit was sweated through.
Rob has also consulted on mascoting for other college and pro teams and helped to train their mascots, e.g., the UT Longhorns and the L.A. Clippers. Still, I couldn't help but wonder, what is it that makes a guy want to be a mascot?
"When I was a kid in school, I was always the one doing pratfalls, being the class clown, pretending to get hit by swinging doors, whatever it took to find and captivate an audience, even if the audience was just a couple of middle school friends or teachers."
Rob's original plan was to continue being The Coyote for as long as he could. He envisioned it lasting well into his fifties. Only then he received a medical diagnosis that changed those plans. With many years of vigorous physical activity behind him, Rob has certainly had his share of accidents and injuries. "It's not your years, it's your mileage," he recalls one orthopedic doctor telling him. Taking anti-inflammatories and pain meds was just part of the lifestyle. Only then, during an eye exam in 2013, the doctor noticed a redness in his eyes which, long story short, turned out to be a symptom of an arthritic condition called Ankylosing Spondylitis. And so, after staying with it for a couple more years, Rob hung up his Coyote suit in 2016 and has been pursuing a different path ever since, while also sharing his experiences with younger would-be mascots. In addition he now works as an advocate for those suffering from similar arthritic conditions, serving as a constant reminder that a positive mental attitude is a powerful tool in overcoming whatever adversities life throws your way.
Rob is remarried now and has one child from his first marriage, Tristan (14) and two from his second marriage, Everest (7) and Parks (5). He and his wife Leigh-Ann love San Antonio and have no plans to leave again. Probed about possible regrets and bucket list items, the response is pretty much what you'd expect from someone who's spent his entire life being positive and upbeat.
"The universe brought this to me. I'm not one for regretting anything. One of the most important things I learned from wearing fur for a living is that making other people happy makes me happy. It's all about creating moments."
That said, Rob is keen to have a go at writing children's books and he wants very much to be a published author someday. He's also a climber with a goal of scaling the Seven Summits, a catch-all name for the highest mountains on each continent. Challenge One on that list will be Kilimanjaro in Africa, possibly as soon as next year. And because public speaking is such an engrained aspect of his personality, Rob gave a TEDxSanAntonio talk in 2016 about his life story and the lessons it offers. The response to the talk was so overwhelming that he now serves as the emcee for the annual TEDxSanAntonio event. Since delivering that talk, he has refined it and rolled it up into a broader motivational series in which he espouses his 'Fur-losophy' of life.
During his TEDxSanAntonio talk (check it out on YouTube), Rob tells the story of bringing a little disabled girl out onto the court at the end of the third quarter to get a hug from Tim Duncan, something he is decidedly not supposed to do as part of his gig. But for Rob the value of that moment to the little girl—and to her parents and the crowd that was totally into the moment as well—was well worth the risk incurred in violating the rules of his job.
It's been a lifetime of performing—in theaters, theme parks, television, and at center court. He was named Mascot of the Year in 2006 and NBA Mascot of the Year in 2014. He also won video of the year—an honor voted on by his fellow mascots—in 2007, 2010, 2014, and 2015. Now, as the second half gets underway, Rob has a pretty clear vision of what's next. In addition to climbing mountains and writing books, he spends a great deal of time speaking to large and small groups about how he was able to make moments as The San Antonio Spurs Coyote. To learn even more about those experiences and about his current work, check out www.whycallrob.com.
So how do you sum up a life spent creating moments?
"As I move forward from the mascot life positively impacting people as a character, now I want to continue having that same impact on people, but as myself. It's me wanting to be out there making people happy. Only this time I'll be wearing pants and not sweating."