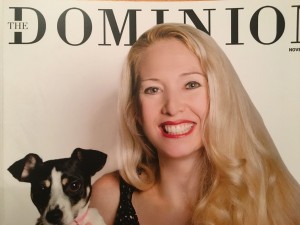 One of the great things about the two-plus years I've spent writing these interview articles for The Dominion magazine is getting to meet the many interesting folks who call the Dominion home. Some of you will know Lynette Aleman as an occasional arts writer for this very magazine, as well as the author of Girl About Town, whose musings on local culture and events adorn these pages from time to time. One thing you learn very quickly from talking with Lynette is that she is the artsy type, though by no means are her creative efforts limited to writing, as we will see shortly.
She recalls growing up on the southeast side of the city during its period of rapid growth. It was there that she and her future husband Anthony met in high school band, where she played French horn, and he played baritone sax during concert season and tuba during marching season. And while Lynette did not stick with music after school, Anthony very much did, shifting to bass guitar and going out on tour with his band after high school. The couple dated off and on throughout high school and graduated the same year.
"Even though he was a year ahead of me," she says, "I was impatient to get on with life and so I drove myself to graduate early."
Lynette was a Christmas baby, and Anthony was born on New Years. Apparently, part of being a Capricorn is a general impatience with life and a desire to get on with things (side note: this was news to me, and I am a Capricorn as well. I must have missed a meeting). Having gone their separate ways after school, they were reunited one evening in 2009 when Anthony's band happened to be playing at Mad Dogs on the Riverwalk, a regular Sunday night gig for the band.
"I was sitting on the patio during a break and I started chatting with some of the band members. It was then I realized that the bass player was the same guy I'd known in high school all those years earlier."
Long story short, they began dating and were married soon afterward. They've now been married several years and Anthony, having gone back to school for IT, works in the cybersecurity field. Lynette works in pharmaceutical research, despite her stepfather's exhortations that none of the kids should go into the medical field. She has one younger brother, one stepsister, and two stepbrothers, all of whom are scattered about the country. Lynette admits to having wanted to be a pediatrician as a young girl, and despite her stepfather's advice, both she and her stepsister became nurses, as well as one stepbrother becoming a doctor. Her youngest brother and stepbrother—the only ones to apparently heed their father's advice—entered the worlds of IT and concert cello playing.
During her academic career, Lynette spent time at both UTSA and SAC, but eventually found her way to St. Philips College in order to acquire the prerequisites necessary for nursing school. She worked two jobs to pay her way through college, and recalls changing her major several times along the way, even for a while thinking she might become a choreographer. But regardless of what she was studying, she really enjoyed her time at St. Philips.
"The faculty there were heavily invested in the success of their students and went the extra mile to make sure we each did well in our studies and subsequent careers."
Following graduation from UTHSC-SA with a Bachelor's degree in nursing, Lynette did pediatric floor nurse work for several years before moving into research work at the recommendation of a friend. Now, years later, she and a number of former medical colleagues work together in their own company, conducting studies for large pharmaceutical companies. Throughout the twists and turns of this career path, Lynette has traveled extensively but always finds herself back in San Antonio. When quizzed about role models and mentors from her youth, she immediately points to her mother and maternal grandmother. They were both very strong women, but in the best possible way, and they pushed her hard, though in a light-hearted and loving way.
"No matter what your goals," she recalls them saying, "if you work your butt off, you can get it done."
Having chosen a career field that turned out to be relatively stressful, Lynette decided early on that she needed an artistic outlet. Which is how she became involved in the San Antonio indie film scene. As an entrée to the field, she decided to apply her corporate project management experience by taking part in San Antonio's first-ever 48-hour film festival, an event in which teams are required to create a short film from beginning to end (writing, casting, filming, editing, the works) in just a single weekend. It's an international event, with winners from each city going to the Cannes Film Festival in France each year. Following that intense experience, Lynette was hooked and has since been involved in several local productions, as either actress, producer, or assistant director. Projects include several short films, one, in fact, released last month (Father), and her first full-length film, Cuerpo, currently in production.
Cuerpo came about thanks to a grant obtained from the San Antonio Film Commission, following which principal filming began this past June. Since then, it has been, in Lynette's words, "a whirlwind." They've had acting interest from as far afield as New York City and Barcelona, Spain. About ninety percent of the filming has taken place locally, including at three of San Antonio's missions.
"The film takes place in the eighteenth century and it's a tale of love, friendship, loss, and betrayal in the context of Native American/Spanish interactions as part of mission life."
The film is written and directed by Mark Zuniga, and Lynette serves as Producer (which means not only worrying about things like casting, costumes, budgets, and schedules, but also selling the film once it is completed later this year) and Associate. Cuerpo is being produced through Eleven Ten Productions (Zuniga's company) and Cheval Noir Films (Lynette's company). In addition, she has also remained active with Broken Camera Productions.
Would Lynette like to do film work full-time?
"Absolutely! But it's important to keep it all in perspective. I love being on the cutting edge of pharmaceutical research. It's a great balance—left brain, right brain—it's the balance that's truly important."
And when she's not doing research or pushing a new film to its conclusion? She'll either be researching and writing articles for this very publication or perhaps sitting on the patio at Las Palapas, a favorite spot to seek inspiration for her next screenplay. She and Anthony stay busy all the time, including travel, their most recent adventure being a trip to Iceland to experience the summer solstice. She's keen to return someday for the equinox and also wants very much to visit Alaska or Scandinavia to see the northern lights. Among her favorite places to visit, Paris tops the list. She's been many times and has plenty of friends in the city. And if filmmaking, writing, and traveling aren't enough to fill up a busy life, Lynette also takes time to serve as Communications Director (and past Treasurer) for The Dominion Women's Forum. As for other bucket list items?
"Well, winning an Oscar someday wouldn't be bad!"
Lynette moved to the Cottages neighborhood of the Dominion in 2006, well before the latest spurt of growth that the northwest side of town has undergone. She loves watching the city grow, and remembers taking breaks from college to drive around the Crown Ridge area while imagining what it would be like to live out here on the outer fringes of the Texas hill country. Once she started looking seriously in the Dominion, she ended up buying the very first house she saw in the Cottages. She loved the layout and the Texas-style wood flooring, but because the house was built in the eighties, she had to invest considerable time and effort in de-pink-afying it (her word!). When she first moved here, she recalls having to carefully plan trips to the local grocery store, which had yet to be expanded to accommodate the rapidly growing northwest community.
"I remember making sure we got to the local HEB [much smaller at that time] by Monday, because of we didn't, they'd be all out of fruit and bagels."
Filmmaking is, at its core, the art of storytelling, and the story of Lynette's life is one built on a fertile combination of tenacity, verve, and creativity, characteristics she brings to each new endeavor or adventure. When probed for final thoughts to summarize her journey to this point, as well as whatever comes next, the response is as inspirational as it is unsurprising.
"Stay curious about the world … and keep having fun!"
The Dominion Magazine – November 2018