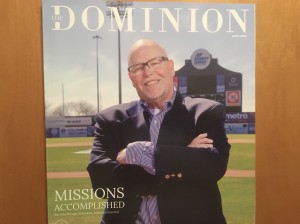 If you've lived in San Antonio for any length of time and you have no idea who the Flying Chanclas or Henry the Puffy Taco are, then you seriously need to pay close attention to this profile. If you do know who they are, then you're obviously a fan of baseball in the Alamo City. Full disclosure: baseball is by far my favorite sport, and I've followed it my entire life—first as a Red Sox fan growing up in Maine, later as an Astros fan in Houston. But, like many people, I've mainly followed it at the big league level, never paying much attention to the minors, until, that is, I arrived here in San Antonio in 2011, where the only baseball option is the minors, specifically the San Antonio Missions, our local affiliate that plays its games at Nelson Wolff Stadium on the far west side of town (more on that issue in a bit). I had an opportunity recently to sit down with team president Burl Yarbrough and, in the process, got quite an education on minor league baseball in general and recent changes to the Missions in particular.
Before we got into what's happening with the team, Burl shared some reflections about his own life and how exactly one becomes a minor league baseball executive.
"I was a big sports guy growing up in Fort Worth—played everything I could. Of course, like a lot of kids, I thought I wanted to play in the pros when I grew up. Only then reality kicked in. So I thought 'well, if I can't play pro sports, at least I can work in that field.'"
Immediately after graduating from college, Burl set about knocking on doors, looking for a position in sports management. He was willing to take pretty much anything just to get his foot in the door.
"A family friend scored me an interview with the Cowboys," Burl recalls. "But the guy quickly recommended that I get a graduate degree in sports management. Well, just having gotten out of college, I wasn't real keen on diving into that right away. So instead, I went to work selling wine for a liquor distributor."
But the passion to work in pro sports was never far from his mind, and before long he decide to take the plunge and get that sports management degree after all. At the time there were just three such programs in the country: UMass Amherst, Ohio University, and Biscayne College in Miami, FL. For a kid from Texas who had no experience with northern winter weather, it was an easy decision. He packed his bags and headed for Miami.
"That would have been 1983-84. It was a great program—just thirty or so of us. It went by pretty quickly, and once I graduated, I began pounding the pavement once again, looking for an opportunity with a sports team."
His first stop was the winter baseball meetings. Having done a brief internship with a AAA club in Phoenix during his graduate program, Burl already had a few contacts, and before long he'd landed his first full-time position with a single-A team in South Carolina.
"I grew up in Fort Worth following Texas League baseball. This was way back before the Rangers came to town, and the minors were all we had. The most famous team of all was the Fort Worth Cats, and they were pretty dominant in those years. It's probably those formative attachments that have kept me in love with minor league baseball ever since."
It's worth a momentary diversion at this point to provide some important historical context for what will become the rest of Burl's life journey. Minor league baseball—specifically the Texas League—has been around since 1888. Yeah, the nineteenth century. And the San Antonio franchise (which Burl will land at here before too much longer) has been a charter member of the Texas League since its formation back then. By way of perspective, there aren't too many businesses or other organizations in San Antonio that can say they've been in continuous operation for a hundred and thirty years (we will deftly avoid here the fraught topic of when and by whom the sport of baseball was first invented). But, with the notable exception of brief inconveniences like World War Two, baseball has been in continuous operation in San Antonio for all of that time. And the Missions have been an integral part of that tradition from the start. The team has played at numerous parks over the years, coming to V.J. Keefe Stadium in 1968, during those years sharing the stadium with the St. Mary's University team. When the larger Nelson Wolff Stadium was built in 1994, the team moved there and have called it home for the entire twenty-seven years since.
But back to Burl, who had just landed his first full-time management position with the single-A Florence Blue Jays. His main goal at this point was simply to learn as much as he could about the team and about baseball management in general. When he first arrived in Florence, his was only the second full-time position on the team, and so he had the opportunity to learn essentially everything there was to learn about what it took to run a baseball team and facility. As things transpired, after just one year, the team's general manager moved on to another opportunity, and Burl found himself the GM of his team. He would go on to stay with the Blue Jays for two seasons, mentored along the way by minor league management legend Bob Freitas, a baseball consultant who spent decades starting, operating, and improving minor league teams all across the country.
After just two years in Florence, Burl landed the GM job with the Missions, and he has been here in San Antonio ever since, having been bumped up to team president in 1999.
"Our owner David Elmore bought the team the same year I first arrived. When I started, we had maybe seven full-time staffers. Now we have twenty-five. And even though we work crazy hours during the season, I've never once felt like it was a job. Many of the people I work with have been here more than twenty years."
And has Burl ever harbored big league ambitions?
"No, not really. I was approached once by the Royals back in the late nineties, but it just wasn't for me. I enjoy being here in San Antonio and I love what we're doing with the Missions. I really have no interest in leaving."
Unlike the relative stability of major league franchises, minor league teams change owners, locations, and levels with some regularity. The Missions have been a AA team since the team's inception a hundred-plus years ago. When Burl arrived in 1988 they were a Dodgers farm club. After that, they were with the Mariners for a few years, and in 2007 became a San Diego Padres affiliate. And then came last year's big change-up. The ownership group decided to move the Padres AA team up to north Texas (where they are now the Amarillo Sod Poodles—for real). In exchange, the Missions moved up to AAA level and are now affiliated with the Milwaukee Brewers. The team that is now the Missions was, until last year, the Colorado Springs Sky Sox. Such transitions can be every bit as chaotic as they sound.
"When teams change hands like that, we get entirely new players, coaches, the whole lot. But the biggest challenge that came about from this team move was travel. As members of the Texas League, our games were relatively local and drivable. But now, as a Pacific League team, our geographical area encompasses everywhere from Des Moines, Iowa to Tacoma, Washington. So it's a lot more plane rides and a much bigger travel budget. The biggest advantage, though, for the city of San Antonio is that the skill level of players is far higher with AAA teams. If you come out to games now, there's a decent chance you'll see one or more players you've watched play in the bigs at one time or another. In our short time as a Brewers farm team, we've had as many as thirty players going up and down between the Missions and the Brewers. Last year our team faced Felix Hernandez, Cole Hamels, and Clayton Kershaw. So there's definitely no shortage of quality baseball for our fan base."
The major source of concern and effort on Burl's part since the AAA changeover has been the stadium, both its location and size. AAA guidelines call for ten-thousand-seat capacity, whereas Wolff Stadium seats just sixty-two hundred. In addition, having opened in 1994, the stadium is older than average for AAA facilities. Finally, its location on the far west side of town is a bit less than optimal and can make travel time somewhat challenging.
"Ever since it was announced that AAA baseball was coming to San Antonio, we've been in conversations with the city about a new stadium," Burl says. "but so far what we've managed is a million dollars worth of renovations, including new batting cages, clubhouse, and other player facilities. Most of our improvements to this point have been for the benefit of players more so than the fans."
That's because many AAA players are accustomed to major league facilities and it is incumbent on AAA executives to come as close as possible to meeting those expectations, particularly given the high level of energy these players put into trying to make their way to major league teams.
"So, yes, we would dearly love to build a new facility, one closer to the center of town so that everyone has easy access. To date that's been a hard sell with the city, but it is my number one pursuit at this point."
Burl estimates a cost in the range of $75-$100 million for a new facility of the quality expected by players, fans, and the league. But it promises to be a long tough slog to get to that point, particularly with the city's unwillingness to put up public money for the endeavor.
So what is everyday life like for a minor league club president? Well, there is all sorts of drama that you aren't likely to witness at a major league park. Like, for example, the game I attended last year where play had to be stopped for twenty minutes so the ground crew could corral a large snake that had wandered into center field, much to the dismay of the outfielders. And then there was the scoreboard keeper who fell asleep in mid-game a few years ago.
"We were playing at V. J. Keefe," Burl recalls. "and I noticed about halfway through the game that the inning totals on the outfield scoreboard had stopped changing. We sent someone out there to check, and, sure enough, the kid who was supposed to be keeping score had fallen asleep."
Then there are the subtle—and sometimes not so subtle—rule differences between minor and major league baseball. The minors, for instance, use a timing clock for pitchers as well as the automatic walk (i.e., putting a man on first without throwing four balls). Relief pitchers are required to pitch to at least three hitters. And if a game goes past nine innings, each subsequent team at-bat begins with a runner automatically placed on second base, all in an attempt to speed up the game. None of which ideas were around to help with the twenty-six inning game that Burl recalls from 1988.
"We kept playing 'til two in the morning and then gave up at the twenty-five-inning mark. We ended up finishing the game two days later and managed to win the thing (1-0) with just one more at-bat."
Almost certainly, Burl's biggest day-to-day challenge centers around fans and attendance, and the team has done numerous innovative things to drive interest and attendance.
"For us fans are what it's all about. We don't control the product on the field. What we do control is entertaining fans once they get here. Our challenge is to build a strong promotional calendar, sell groups, and make this a fun place to visit. We've done our job if the fans have a great time and want to come back."
Those programs include everything from promoting church and civic groups to giving away used cars, having Saturday night fireworks, and ensuring that the team mascot—yes, Henry the Puffy Taco—runs the bases and entertains fans at every game. A few years back, the team even developed the concept of reaching out to San Antonio's large Hispanic community by rebranding the team the Flying Chanclas every Thursday night. (For the uninitiated, a chancla is a sandal or flip-flop with which Hispanic grandmothers (Abuelitos) famously discipline children.). The team even created a full line of Flying Chanclas hats, jerseys, and other merchandise, all of which now sells nearly as well as the traditional Missions wear.
So, after more than thirty years at the helm of the San Antonio Missions, what sorts of things does Burl reflect upon?
"I have no regrets at all. This has been a great place to run a club, a great city to be in. I grew up loving the Texas League and was grateful to be a part of the league. We've had six Texas League championships, my first back in 1997. I got elected into the Texas League Hall of Fame a few years back, and it's been a dream come true, one I hope to continue doing for many years to come. I'm really the caretaker of this franchise. But once I'm gone, baseball will continue to go on. For me to be part of this organization for over thirty years has really been something special."
And what does he have to say to the team's fans, both past and present?
"If you've never been here, I strongly encourage you to come out. With our move up to AAA, the quality of play is outstanding. These guys work their tails off every day. They're coming in at noon for a 7:00 p.m. game. They're working out again after the game. Their goal is to get to the majors, and that translates to amazing baseball for us."
As I had walked into the stadium earlier in the day to meet with Burl, I'd noticed an immense USAF C-5 Galaxy flying close over the top of the stadium (Kelly AFB is nearby). Burl nodded enthusiastically when I mentioned it.
"Come out to the game," he said smiling. "The airshow is free!"