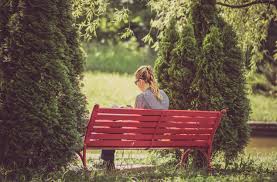 A simple enough assignment.
One picture alone
at the far end
of a distant wing,
obscure, exiled.
Removed from the masters.
I'd wondered what to expect
when I first saw the title,
"A Girl Weeps Beside a Basket of Raspberries."
Something modern – a solid red canvas perhaps.
A Rothko blur, some Twombly scribblings.
But no, there she is,
aglow in harsh white museum light.
More literal than I had imagined,
though vaguely defined,
in a not-quite-impressionistic way.
The girl, young, sitting on a park bench,
sixteen, seventeen, difficult to say.
Her dress of taffeta white,
matching bow drawing back
black ringlets.
After Renoir, but not as good.
And there, beside her, sure enough,
the basket … but of what?
Raspberries if the title is to be believed.
But in truth, it could be
anything small and red.
The cruelty of vagary,
or irony perhaps.
But no obvious sign of crying,
save a subtle glimmer in one eye
that could be a tear,
or perhaps the glint of knowing
something I can never know.
September 30, 2019
Brian Kenneth Swain