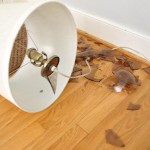 It was only a lamp,
and an ugly one at that.
Footballs, even small foam ones,
bounce so unpredictably.
Where's the justice
in holding a small child
accountable for that?
And so I wait…
Of course these things
always seem to happen
at ten in the morning,
just to make sure I have all day
to ponder the nature
and the measure
of my penance.
And so I wait…
There are countries, I'm told,
that have laws against
psychological torture,
probably even Geneva Convention
guidelines.
But not in this house.
Here, all bets are off.
All's fair in child rearing.
And so I wait…
Perhaps he'll have a good day
at the office.
Maybe he'll be feeling magnanimous,
forgiving.
He could decide that the wait,
the apprehension,
is punishment enough.
Probably not.
And so I wait…
Sitting on the living room sofa,
doing my best to look penitent.
And there's the turn of the doorknob,
the hushed whisper in the entryway,
and the echo of footsteps
coming my way…