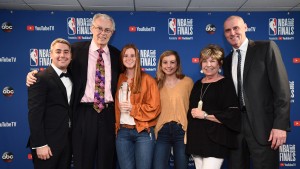 A few months ago we did a piece in these pages about the life and achievements of former Spurs head coach Doug Moe and his wife Jane. Well, apparently the members of the National Basketball Coaches Association are readers of The Dominion magazine, because only a few weeks ago they voted to recognize Doug with the Chuck Daly Lifetime Achievement Award, which was presented to him in Oakland during Game 2 of the NBA Final Series between the Golden State Warriors and the Cleveland Cavaliers.
It's a terrific and much deserved honor in recognition of Doug's contributions to the game in general and, in particular, to his impact on the pace and style with which the game is played today. So, I asked, how were you notified of this auspicious award?
"I was sitting in my car at La Cantera Mall, listening to the radio, waiting on Jane to do some shopping inside, when my cell phone rang and it was (Dallas Mavericks head coach and NBCA President) Rick Carlisle calling to tell me the good news. It was only a couple of weeks before the award ceremony. We had no clue at all."
In a nice bit of circular history, Oracle Arena, the Oakland stadium where Doug received his award, was a venue in which he had actually played back in the 1968-69 season.
When Doug first broke into coaching, first with the Spurs, then later with the Denver Nuggets, the game was very much about controlled pace and well-structured plays. Instead, Doug opted for speed, fast breaks, and rarely holding onto the ball for more than a second or two, all techniques designed to keep the opposition guessing and, more often than not, simply out of breath. That, in turn, resulted in Doug's teams getting off a lot more shot attempts, so that even if their shooting percentage wasn't as high as their opponents', the final score was frequently higher.
"Nobody knew what the hell we were doing. Other coaches were diagramming our plays on the blackboard, and we weren't running any."
It was a style of play based on instinct, agility, and spontaneity, one that took a while for new players to grow accustomed to, and definitely one that was difficult to describe to other coaches and the sports media. But it got the job done, and it earned Doug a lifetime coaching record of 628-529 (.543) in four seasons with the Spurs, ten with the Nuggets, and one with the Philadelphia 76'ers.
And that heightened level of spontaneity and enthusiasm wasn't limited to the players on the court. Doug was well known for yelling at players from the sidelines, once getting excited enough to even throw a cup of water at a ref over an unappreciated call, a reaction that got him a small fine. But hey, it was a game built on enthusiasm!
Next on the schedule for Doug is a quick trip to Vegas for a fantasy football draft (he's a huge fantasy football and baseball guy), followed by a trip back to North Carolina for a reunion with other UNC lettermen.
"In the 1970's and 80's, Doug Moe established a pace-and-space game that was decades ahead of its time," says Carlisle. "Congratulations to a true visionary on this special recognition of innovation and accomplishment."
The Dominion Magazine – September 2018