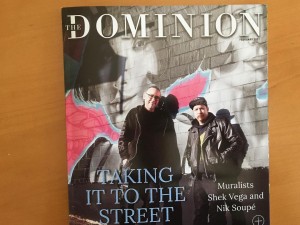 "It went from running away from the police to shaking their hands and saying, 'Thanks for watching our wall while we're not here.' Back in the day, we would see a building or a wall and call someone asking for permission to paint there. Now they're calling us and asking us to do it. Hell, and commissioning us to do it!"
Funny how life turns around sometimes, particularly when you're a street artist who grew up doing something many people regarded as little more than vandalism. David (Shek) Vega, one of San Antonio's best known urban artists, fondly recalls the marked differences between the San Antonio of his teenage years and today.
"These days, Nik (artistic collaborator Nik Soupé) and I are free to create as much art as we can find the time for. It makes San Antonio a more attractive city when visitors can come here and see our work and the work of the other muralists we support."
Vega and Soupé are collaborators and co-owners of Los Otros Murals and have been working together since they were teenagers growing up on the Alamo City's south side. It was a time and place where simply staying out of trouble was a never-ending challenge.
"Gangs were super prevalent in the nineties," Vega recalls, "but I managed somehow to stay out of that. I gravitated toward counterculture: punk rock, skateboarding, and, ultimately, graffiti. But I vividly remember one day seeing a guy I was skating with signing a dumpster with a strange kind of marker and with a font I'd never seen before. It totally blew my mind and captured my interest. The guy was not only creating something other people would see, but he was doing it using tools that didn't exist, that he'd had to create for himself—guerilla tools! It was a transformative moment and I jumped into it with both feet. It got to a point where the main goal was to out-create our peers—almost like a sport that you play with your neighborhood friends. But after a while it became clear I couldn't hide it from my parents any longer. At that time graffiti was considered vandalism, and the only expectation anyone had was that it was a pursuit that would eventually get you locked up. After years of dedication and passion, now they couldn't be prouder of what I've accomplished. In 2019 we were the first street artists to be commissioned by Fiesta to represent one of the largest festivals in the nation. Now my mom says 'I never imagined my son would be representing the city of San Antonio.'"
Nik grew up in the valley and his take on how his art life began is a little different.
"I remember just wanting my art to be bigger and bigger. I never imagined in my wildest dreams I'd be doing it as a career. My dad was a car painter, and that's how I grew up—sanding and priming cars. I remember one day seeing a movie that had graffiti in it and my reaction was to run back to the garage and use a bunch of my father's paints to create a huge eyeball on the wall. Only then I covered it up with tires and stuff because I didn't want to get into trouble over it. My dad was kind of the machismo type and he told me that an art career couldn't happen for me."
But the idea refused to ever leave his head. Walking around the neighborhood, Soupé would see other people painting murals on walls.
"And so naturally I began wondering how can I get to do that? A lot of my friends were into words and letters, but I quickly went in the direction of creating backgrounds and photorealistic figures. As kids we're told by our parents NOT to color on the walls, but ever since I was very young it's all I've ever wanted to do.
"Now when I meet old friends from childhood, I often hear, 'Oh you're still doing that?' Our connection has stood the test of time. Shek and I are like brothers and we definitely get after each other from time to time. But you can never stay mad! We're part of a close-knit art community where everyone knows everyone. It's interesting to see every year the latest new batch of artists. It has been that passion that fuels our work. The goal has always been to just get the work out there to influence other artists and create a more colorful city."
It's obvious from the easy give and take of our conversation that these two guys play uniquely well off one another. After all, it was Nik who first got Shek into showing off his work. And it was Shek who exposed Nik to the freedom of painting walls.
"Seeing different people paint in an enormous range of styles was an incredible experience," Soupé says. "Some of the best times of our lives have happened painting walls, working in Houston, Austin, etc. It feels so much like a family—a group of creative misfits. It's something I'm so thankful for. We all have this connection through art. Even people we work with who don't speak the same language get connected through wall painting."
Shek and Nik met about twenty years ago, at a time when Shek was painting graffiti and Soupé was running his gallery/studio/art spot. The original idea had been to locate as many graffiti artists as possible and get them all together into a controlled environment where they could support one another. And while the two are definitely different personalities, in many ways they are driven by the same sorts of forces.
"It's evolved over time for sure," Shek says. "When I was young it was about out-doing the other guys—out-creating them. Before long, though, it became about loudly declaring your place in the world. It was almost a spite thing in our younger days: 'I'm gonna show you that I'm here. I'm gonna force you to see me.' And all in a part of the city where art isn't typically made available to the community."
Layer on top of all that a persistent desire to legitimize a long-underappreciated art form, and you get the sort of motivation that has kept Shek and Nik doing this for a very long time. Possibly the most rewarding aspect of their work—aside from plenty of personal recognition and accolades—is the degree to which the city has come around to their form of art and creation.
"We've always had a great culture here in San Antonio, but something shifted pretty dramatically about ten years ago when street art started getting recognition," Soupé recalls. "All those people who grew up watching us do our thing on walls and street corners—well, now those are the people who are lawyers, doctors, professionals, people in positions of influence, whether political or cultural, who have helped us transition this art form into a more validated state."
In addition to their own artistic projects, Vega and Soupé have been busy on the business side of things as well. In 2010 Shek started Gravelmouth Gallery, San Antonio's first contemporary gallery with a focus on street art. The two founded Los Otros (the others) Murals, a mural and multi-art service, in 2014. In addition, because of his dedication to the promotion of the arts in San Antonio, and street art in particular, Shek created the San Antonio Street Art Initiative (SASAI) to recognize and promote mural and street art painting in central Texas. SASAI affiliated artists have, thus far, completed more than fifty murals in the area of North St. Mary's Street, with plans for plenty more artwork as soon as the Covid pandemic relents. As the Los Otros Mural duo, Shek and Nik have painted over seventy-five projects around town, including commissioned work for the Spurs (2016-2019), wall mural work inside the Aztec Theater (the first artists to touch those walls since the 1920's), the first street art mural on the Riverwalk, a live painting of a four-foot skull for the Dios de los Muertos river parade thrown by Chef Johnny Hernandez, and an immense project across the entire SA Current building on Dallas Street.
"Our first reaction on getting the call from the Current (our first mural painted as Los Otros) was 'OMG, how the hell are we going to tackle this?' Then we just started unbolting awnings, taking down signs, everything. We painted the entire front of the building. But it's a tricky thing, one we learn a bit more about with every project. You first have to treat the stone or brick properly (because you want to ensure that your artwork lasts as long as the elements will allow) and then ensure that you only use the very best products. If you try to cut corners to save a buck, the work simply won't last.
"After all this time, it's still an incredible learning experience. It never gets unscary. But you learn how to guide that energy. We learn something new with every project. When we're working big, for example, it's important to keep in mind the perspective of the viewer."
The SASAI thing has been a real opportunity for Shek to give back to the city he loves and to promote the work and careers of others who aspire to work on large-scale street projects.
"We're always trying to validate the street art genre and its value to urban communities. We love San Antonio and we felt that there were a lot of opportunities the city was missing out on with galleries, murals, etc. We wanted to exert influence where we could so people wouldn't feel like they had to leave the city in order to pursue their artistic dreams. In 2018 we started the nonprofit to focus on those sorts of conversations. The point of the initiative was to help artists fine-tune their craft in the public realm and create a career and résumé that would allow them to achieve their goals. SASAI is currently focused on the development of public art and mural work, while creating an ecosystem where artists who contribute their talents for the benefit of the city can also afford to live and continue practicing their craft in the city they love. We're only two years old and we've already created fifty murals and have aided in the careers of thirty-six artists. We're constantly looking for funding and potential project opportunities to help facilitate this growing initiative. As much as we've done through SASAI and Los Otros since 2014, a lot of the institutions out there who might support the arts are still unfamiliar to budding street artists. And many of the artists we support have never had the opportunity to work on a large scale before. Connecting people willing to commission art projects with talented local artists who are looking to grow their experience is a big part of the initiative's mission."
Nik and Shek have now been painting together for over twenty years. They have worked all over San Antonio, and have also done work in Florida, California, even Nebraska.
"Once the Spurs got onboard," Shek recalls, "things really began to take off locally. "That work created lots more legitimacy and awareness of the art form, lots more understanding which then translated to greater community and city acceptance. Many people who don't have the luxury, or who feel uncomfortable in museums or institutional art settings, can now enjoy artwork just by driving or walking around the city. People have said to me "I got into art because I saw your work on St. Mary's Street or wherever. Instagram alone is creating a whole new generation of mural hunters, including tours to see our work and the work of others."
Shek picks up the thread. "Street art and graffiti are the only forms of expression that you get in some neighborhoods. Although it was frowned on at the time, it was our way of saying I'm here. Growing up in some areas, you don't always believe you're going to make it out of your neighborhood. But we're here and we have a voice. Nowadays murals are our way of pushing that message while creating a place where people can see community expression when they're out in their neighborhoods. It's a way to legitimize the street art form, to show people that expression and careers in public artwork are obtainable."
What thoughts would Nik and Shek like to leave with readers who may be unfamiliar with their form of artwork?
"We want people to know what we're doing, and why. We're trying to share our art with people, make it more accessible. The really fun part is showing what we've accomplished and where we're going with our next projects. We're very happy to be doing what we're doing. It's important to let people know about supporting the art. We'd like to invite people to get involved in helping the city grow its public arts awareness, just to keep it going and develop enough traction so that when we pass the baton the structure will be there for the future. We live in a magical and supportive city, and it's incredibly exciting to see the mural scene growing.
To learn more about Los Otros, Gravelmouth Gallery, and the San Antonio Street Art Initiative, check them all out at:
https://gravelmouthgallery.tumblr.com/
https://sanantoniostreetart.org/